Oshiomhole has Trade Test certificate, not competent to fault Obaseki's qualification – Wike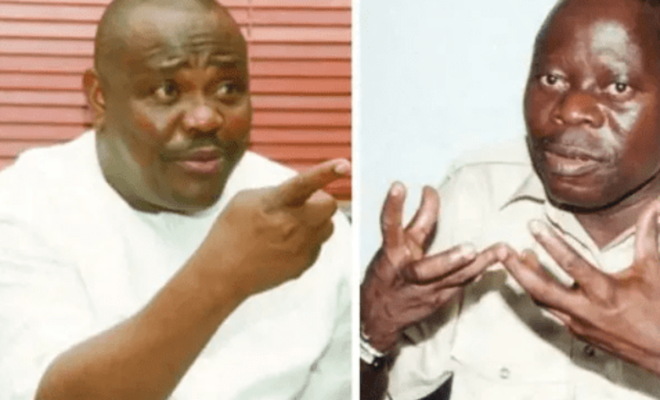 Governor Nyesom Wike said Adams Oshiomhole has Trade Test as his qualification, according to Oshiomhole's deposition at the tribunal, stressing that Trade Test is not an academic qualification. It is what affirms a skill set, but not an academic qualification, he stressed.
Wike who is leading the campaign train on behalf of the PDP for the party's gubernatorial candidate, Godwin Obaseki, in the upcoming Edo election said in a trending video that Oshiomhole is too unqualified to question the academic qualification of Obaseki.
Wike berated Oshiomhole for trying to foist Pastor Osagie Ize-Iyamu, the candidate of the APC on the people of Edo, a man Oshiomhole once said was a "cultist, a man you cannot trust with money and a fake pastor."
He accused the APC lawmakers of taking the laws into their house by acting on a matter before the court of law. He described their action as lawless. Wike defended the governor, Godwin Obaseki, for taking actions to defend the constitution and democracy in Edo State.
According to Wike, Oshiomhole and Iyamu have been rejected by Edo people hence nobody believes them anymore.
Meanwhile, the All Progressives Congress (APC) on Saturday admonished its supporters in Edo against violence before, during and after the Sept. 19 state governorship election.
Mai Mala Buni, Chairman of the party's Caretaker Committee, gave the advice in Benin at the official commencement of APC's 2020 Edo governorship campaign.
"We are here to win and not to fight," he said.
Buni said he and members of his entourage were in the state to present the party's governorship candidate before the party's teeming supporters.
The caretaker committee chairman, who is also the governor of Yobe, added that they were also in Edo to ensure that the party takes back its mandate in the state.
He noted that with the crowd seen at the campaign ground he had no doubt that the party would be voted for in the forthcoming election slated for Sept. 19.
Buni advised also that the supporters must ensure that their votes count.