Outrage as 11-year-old boy is allegedly sexually molested at School; mother demands justice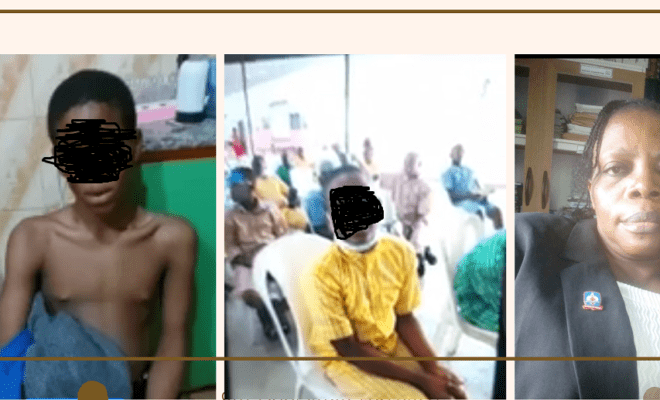 Distraught and heart-broken, Mrs Deborah Okezie, whose 11-year-old son was allegedly sexually molested at Deeper Life High School, Uyo Campus has one battlecry: Justice for my son.
Not getting any reasonable explanation from the school authorities on why his once chubby son had lost weight, was coughing and puking and grossly emaciated within two months, Mrs. Okezie has taken her case to the public court making a video of the incident.
The video which has gone viral and was greeted with outrage portrayed the transformation of his son from a once chubby and happy boy to a skinny and emotionally-subdued school boy who seemed be afraid to say it all.
The little lad referred to threats by some persons in the school to beat him if he ever tells his parents the ordeal he's been going through in the school boarding house.
"I gave Deeper Life High School, Uyo Campus a happy, chubby boy but they returned to me a skinny, sickly boy who obviously has taken a lot of bullying and beating in the hands of some senior students with complicity from teachers and the school authority," Mrs. Okezie alleged in the video in which she displayed pictures of his chubby, smiling son on his first day in school and video of his current malnourished state.
Mrs. Okezie said his son told her of how he was severally sexually molested by some seniors in the school who on many counts would ask him to strip and then one after the other, they would push their toes and fingers into his anus in what appears a case of sodomy, child abuse and violation of human rights, including stripping him of his dignity.
The live video which drew umbrage and outright condemnation was however dismissed by the school authority as pure lies and blackmail.
In a terse but strangely evasive statement, the school authority wrote:
"The attention of the management of Deeper Life High School, Uyo Campus has been drawn to a video posted on Facebook by Deborah Okezie.
"We are sincerely grateful to all of you who have since then been calling. We cannot forget those who drew our attention into these lies and blackmail. God bless you!
"Dear esteemed parents,
"As management of Deeper Life High School, Uyo Campus, we want to categorically state that  the contents of the said video are lies. We plead with you as parents to kindly interact with your children about the school and her operations. Ask them to tell you about a student known as Don Davies. Having this direct testimony from you children will justify our stands.  We believe your children will not lie about the services we give to them here.
"God will surely vindicate us from these lies and blackmail."
The principal of the school, Mrs. Ndidi Solomon, is believed to have issued the statement after, according to Mrs. Okezie, she had denied knowledge of any form of maltreatment of the complainant's son.
Meanwhile,  Akwa Ibom State Government has ordered full investigation into the matter. In a statement issued by Comrade Ini Ememobong, Commissioner for Information & Strategy, the state government said it has "noted with great concern, the complaints by a parent whose child is a student of Deeper Life College, Uyo. The complaints gleaned from social and traditional media, relate to the maltreatment and abuse of their child, which occurred at the said school.
"Consequently, the Governor of Akwa Ibom state, Mr. Udom Emmanuel has directed the Honourable Commissioner for Education to immediately investigate these complaints and take necessary action.
"The State Government is committed to the protection of children wherever they may be within its jurisdiction."
The revelation….
Mrs. Okezie said she was provoked to visit her son in school after she had a terrible dream in which her son was waving at her and appeared to be running away from her each time she tried the come close or even look at him.
According to her, she felt something untoward was happening to her son whereupon she decided to pay him a visit. She said she was resisted and rebuffed by the school authority as parents were not allowed to make unscheduled visits to their wards especially outside visiting days.
She however insisted and related her nightmare to them. She said when she eventually saw her son, he was not at all the same bubbling boy she handed over to the school barely two months ago. She demands justice and wants Pastor W.F Kumuyi, the founder of Deeper Life Bible Church, owners of the school, to come to her aid by ensuring full investigation of the matter.