Over 3,000 Nigerians atrociously killed in 2019 – Report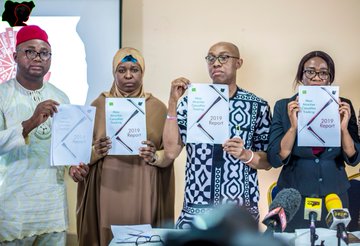 Middle: A co-convener of the Bring-Back-Our-Girls campaign, Aisha Yesufu; Former chairman, NHRC, Chidi Odinkalu at the unveiling of the new report
This is according to a report by Global Rights, an international non-governmental organisation championing human rights capacity building, 3,188 Nigerians were reportedly killed atrociously in 2019.
The report shows that 3,188 Nigerians, including 2,707 civilians and 481 security operatives were killed.
The report, presented to journalists by a former chairman of the National Human Rights Commission, Chidi Odinkalu and a co-convener of the Bring-Back-Our-Girls campaigner, Aisha Yesufu, said this was due to violent incidents in the country.
The reports also showed Borno State topping the casualty figure list with 728; while Zamfara, Kaduna, Katsina and Taraba recorded 450, 280, 254 and 181 respectively.
An in-depth analysis of the report showed that violence-related deaths were recorded in every state in Nigeria with Abia notably the least impacted, with one death recorded.
"In January 2019, data indicates that at least 208 persons were killed from incidents related to: Boko Haram/
ISWAP attacks, banditry, pastoralist conflicts, electoral related violence. Disaggregated: 156 civilians, 49 soldiers, 2 police officers and 1 naval officer were killed".
"In February, at least 238 persons died. A fair number of the violent incidences nationwide were attributable to the acrimoniously contested Presidential elections.  Disaggregated, at least: 213 civilians 21 soldiers and 4 police officers were killed".
The report further states, "Our tracking of casualties of conflicts, violent clashes and extrajudicial killings across Nigeria for 2019 informs that at 3188 lives were lost between January and December 2019 as a result of violent incidents".
"In March, at least 276 people were killed in violent incidents across the nation, these occurred largely with the background of the state level elections which were held that month, and relatedly, about 45% of these deaths were incidental to this".