Pastor Adeboye lists 10 benefits of Covid-19 lockdown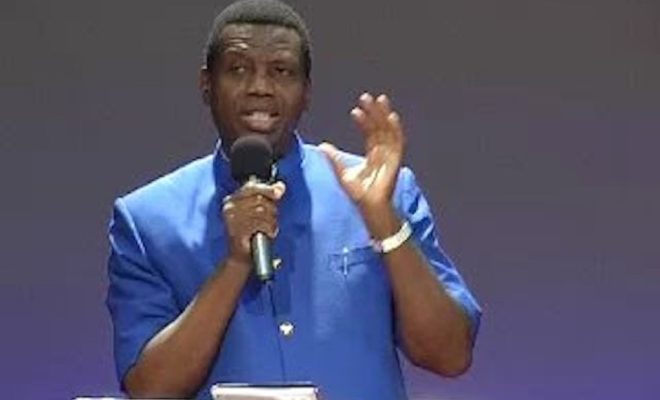 Pastor Enoch Adeboye, the General Overseer of the Redeemed Christian Church of God (RCCG) worldwide has listed 10 things people should do to make the most of the Covid-19 lockdown, a global compulsory holiday which he had earlier forewarned the world.
The popular RCCG pastor noted for his taciturn and unflappable disposition traced the origin of lockdown to the Bible during his Sunday sermon monitored by Political Economist, stressing that lockdown was not new. He said people had passed through lockdown experiences in the Bible and they profited from it.
EXAMPLES OF LOCKDOWN
He gave the following examples:
David was locked down in the Cave of Adulam (1Sam 22:1-2) where he turned about 400 miscreants to a mighty army and he became their captain.
Prophet Elijah was locked down in the house of the widow of Zarephat where he became the first ever prophet to raise the dead (1Kings 17: 17-24).
Joseph was locked down in prison in Egypt from where he transformed from a dreamer to interpreter of dreams with the attendant benefit of becoming a Prime Minister. (Gen 40: 1-22; Gen 41:1-44).
10 THINGS TO DO IN A LOCKDOWN
Using Biblical expositions, Pastor Adeboye listed 10 things you must do to maximise the Covid-19 lockdown:
REJOICE: People all over the world should rejoice in spite of the inconveniences of the lockdown. Phil 4:4, 1Thes. 5:16.
PRAISE GOD: According to Adeboye, lockdown is a period to praise God because He said in all things, we should thank Him – 1Thes. 5:18.
PRAY: The Bible says pray without ceasing – 1Thes. 5:17
STUDY: Use the lockdown as a period for personal improvement through study- 11Tim. 2:15
MEDITATE: Lockdown is not a period for jamboree but a moment to meditate – Joshua 1:8
RECEIVE VISIONS FOR YOUR FUTURE: The entire Book of Revelation was written by Apostle John when he was locked down on the Island of Patmos. Joel 2:28; Prov. 28:9 talks about the place of visions in humanity.
PLAN WHAT NEXT TO DO AFTER LOCKDOWN: Psalm 37:5 says 'commit your way to God…'
CLEAN UP YOUR HOUSE AND SURROUNDINGS; Deut. 23:14.. God hates indecent things in our homes (camp).
YOU WILL DISCOVER MANY THINGS YOU DON'T NEED STILL OCCUPYING SPACE IN YOUR HOUSE: Give them out to those who need them. Lighten your home. 11Cor9:11-12.
PRAY FOR YOUR LEADERS INCLUDING ME: God says we should pray for those in authority. Pray for your leaders during the lockdown. 1Thes. 5;25.
When you do all this, you would have showed God that you love Him and He would love you in return by showing you mercy. In that case, you would maximally reap the benefits of the lockdown, he said.