Peter Obi in Bauchi, says discovered oil not for sharing but for development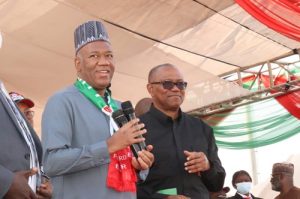 The Presidential Candidate of the Labour Party, Peter Obi, on Thursday took his campaign to Bauchi state, assuring that the recently discovered oil in the state will be explored and used to develop the people and the area not for sharing.
Obi also told the jubilant and obviously organic crowd that the hide and skin industry in the state will be developed and turned into a production centre for export.
He said that taking back Nigeria entails that we change the country from Consumption to Production and to achieve that, the country must be well secured.
"We cannot achieve anything if the country is not secured and it would be the top priority of Datti and I to secure the land and return the people to the farms," he said.
The LP candidate noted that he and Datti's projection to pull the people out of poverty, especially in the North, will not be possible if the land is not secured.
This, he said, explains why security will be their number one priority if elected into office come February 25, 2023.
According to the former Governor of Anambra state, "Datti and I have the key to unlock the wealth of the North which is embedded in the vast arable land in the region."
The VP candidate, Senator Yusuf Datti Baba-Ahmed, the National Chairman of the Party Bar Julius Abure and other leaders of the party underscored the candidate's position about the Labour Party's desire to pull people out of poverty, develop education and health infrastructures and create job for the vibrant youths.
Earlier before the rally, on arrival in Bauchi, Obi and his team comprising the running mate, Senator Yusuf Datti Baba-Ahmed and National Chairman of the Labour Party, Bar Julius Abure paid a courtesy call on the Emir of Bauchi, Dr Rilwanu Suleman Adamu, in his palace.
The royal father, who received them with his chiefs and other prominent sons of the ancient city, wished them well in their heart desires.
Obi had told him that he and his Vice are in the race because they feel they have the key to help Nigeria youths take back their country and rebuild it.