PIA Plane crash: Black Box recovered; survivor recounts last moments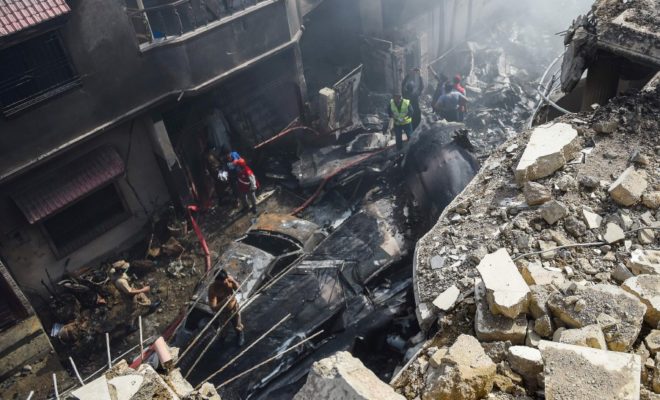 One of the survivors of Friday's plane crash in the Pakistani city of Karachi has described his ordeal, saying all he could see "was fire". Zubair narrated how the plane jolted thrice and how the pilot tried to lift the plane off the ground before it finally crashed.
Passenger Muhammad Zubair who sat on Seat No. 8F was one of at least two passengers who survived after the Pakistan International Airlines (PIA) Airbus A320 came down in a residential area.
The plane had landed and was on the runway for a brief moment before the pilot suddenly lifted the plane off the ground and then it crashed, Zubair tried to capture the last moments of the plane.
Health authorities in Sindh province said 97 deaths had been confirmed. The cause of the crash is not yet known.
However, PIA spokesman, Abdullah Khan, said the cockpit voice recorder and flight data recorder had been retrieved from the rubble. Experts say the retrieval of the Black Box will help unravel what happened to a plane that had already attempted landing on the tarmac.
The pilot had reported a technical fault after one failed landing attempt, according to local media, then issued a mayday call as the plane came down.
It came days after Pakistan allowed commercial flights to resume after the country's coronavirus lockdown was eased.
How did Muhammad Zubair escape?
Flight PK8303, an Airbus A320 carrying 91 passengers and eight crew – including many families travelling ahead of Sunday's Eid holiday – had travelled from Lahore.
It was attempting to land at Karachi's Jinnah International Airport at about 14:30 local time (09:30 GMT) when it came down.
Mr Zubair, who suffered only minor injuries, said the plane attempted one landing and then crashed 10-15 minutes later.
"No-one was aware that the plane was about to crash; they were flying the plane in a smooth manner," he said.
He lost consciousness following the crash. When he came to, he said, "I could hear screams from all directions. Kids and adults. All I could see was fire. I couldn't see any people – just hear their screams".
"I opened my seatbelt and saw some light – I went towards the light. I had to jump down about 10ft (3m) to get to safety," he added.
-With Agency reports