Plane crash trial: I know nothing about M17 crash, suspect tells court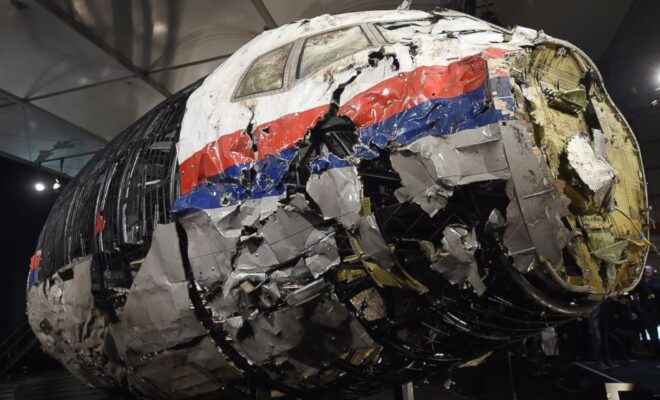 One of four suspects being tried in absentia for the 2014 downing of Malaysia Airlines Flight 17 has denied any involvement with firing or supplying the Russian-made Buk missile used in its destruction, a lawyer said in court on Monday.
MH17 was flying from Amsterdam to Kuala Lumpur when it was shot down by a missile fired from territory held by pro-Russian rebels during fighting in eastern Ukraine.
All 298 people aboard were killed.
After an international investigation lasting almost six years, four defendants went on trial in absentia in March, of whom only Oleg Pulatov has instructed a lawyer to defend him.
"He did not contribute and he was not involved. What's more, he did not and does not have any knowledge of how and why MH17 was downed," his lawyer Sabine ten Doesschate said at the Hague District Court.
In September 2016, an international team of criminal investigators said evidence showed the Buk missile had been brought in from Russian territory and was fired from a field controlled by Russian-backed separatists.
The Dutch-led joint investigation team (JIT) concluded in May 2018 that the missile system belonged to a Russian brigade.
Australia and the Netherlands announced they were holding Russia responsible for downing the aircraft.
Then, in June 2019, the JIT named four men it alleged were involved in bringing the missile into the area in eastern Ukraine, and charged them with the murders of 298 passengers and crew. It announced that international arrest warrants had been issued.
The suspects, who prosecutors plan to try under Dutch law at a court hearing beginning on 9 March 2020, are:
Igor Girkin(also known as Strelkov), a former colonel in Russia's FSB intelligence service, according to prosecutors.
He was given the minister of defence title in the rebel-held eastern Ukrainian city of Donetsk.
Sergei Dubinsky (known as Khmury), who was employed by Russia's GRU military intelligence agency, was a deputy of Mr Girkin and was in regular contact with Russia, investigators said.
Oleg Pulatov, known as Giurza, a former soldier of GRU special forces and deputy head of the intelligence service in Donetsk, according to the JIT
Leonid Kharchenko, a Ukrainian national who has no military background but led a combat unit as a commander in Eastern Ukraine, prosecutors said
Details of the charges against these men, who prosecutors said were "innocent until the contrary is proven in court", will be outlined during the proceedings.
The case will be tried in absentia as none of the suspects will appear at the Dutch court. Russia does not extradite its own citizens.
The JIT, whose investigation continues, has previously said it had a "long list" of persons of interest and had repeatedly appealed for witnesses.
Russia has denied any role. (Reuters/NAN)