More plaudits for global journalist, Jackson Ude, on his Sri Lanka Peace Award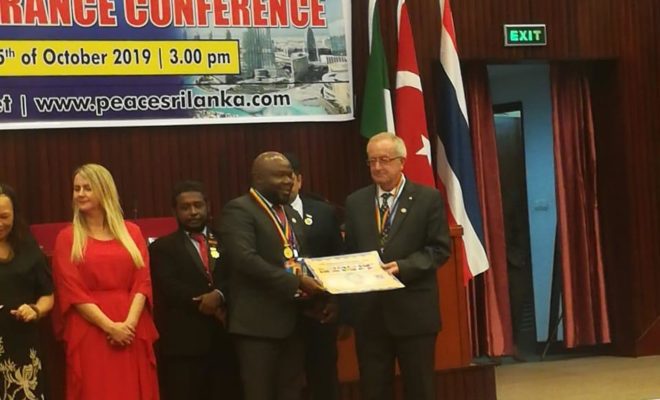 Hours after Mr. Jackson Ude, publisher of Pointblanknews.com was conferred with the Peace Ambassador Award by the Centre for Peace Studies (CPS), Colombo, Sri Lanka, encomiums have continued to pour in for the widely travelled journalist.
Ude, an editor, media scholar and political communication specialist was also a former Director of Strategy and Communication to President Goodluck Jonathan.
He was in Sri Lanka at the weekend to receive the award which, according to the CPS was to commemorate his contribution to regional and global peace through his consistent advocacy for good governance especially among developing nations.
The award has since set social media on fire with congratulatory messages and accolades heaped on the gutsy Nigerian-American journalist. Ude operates from New York with widespread influence to Asia, Africa and other parts of the United States.
Dr. Emmanuel Akachi, one of Ude's readers said he was not surprised at the Award because "it is a reward for courage in a media space where many have been cowed into silence.
"He deserves this honour. I have been following his works on Pointblanknews.com and I must say his type is rare. He has kept with the time-tested maxim of 'publish and be damned,' he told Political Economist.
Churchill Umoren, a US-based Nigerian journalist who had worked with Mr. Ude said he expects more of such awards to come the way of Mr. Ude.
Mr. Oma Djebah, former Commissioner for Information, Delta State, was excited at the award. The  Canada-based journalist and media scholar gushed in his social media post: "Congratulations. Global feat, great accomplishment!"
Another fan of Mr. Ude, Mr. Taiwo Oladipo, wrote: "Congratulations Jackson. You are a great asset to humanity and your promotion is sky-bound. Thumbs up!"
For Mr Oladipo Oladimeji, a businessman and real estate icon whose pastime is archiving data on Nigeria's anti-corruption efforts from 1999, Mr Ude deserves to be so honoured. "He is the conscience of the nation; a voice for the voiceless Nigerians who are being denied their tomorrow by the thieving scavengers of our time".
The award conferred on the widely travelled anti-corruption crusader and unrepentant purveyor of the principles of rule of law by the independent juries of the Centre for Peace Studies is as a result of his outstanding contribution to the media, his fight against corruption and advocacy for good governance and democracy.
According to the letter signed by Prof Dr. Riyas Sulaima Lebbe, Executive Director CPS, the award was to promote United Nations sustainable development goal 2030 as volunteer worldwide and to create a better world for future generations. Ude who has consistently covered several United Nations programmes was nominated by Dr. Charles Wratto.
The CPS urged Ude to stand up for those suffering in the world and to make urgent progress towards a peaceful resolution adding that in doing so, the CPS can give meaning to its vision of a 'Reconciliation through Tolerance' that will act in the collective interest and fulfill every human responsibilities on the land.
Ude, an award-winning Nigerian-American journalist with over 25years of experience within Nigeria and the United States was born in Amurie, Nkporo in Ohafia Local government of Abia State, Nigeria.
He fled Nigeria in 2002 after his life was threatened over an investigative story he authored which was published in the defunct Post Express Newspapers. The story was said to have angered the then Government of former President Olusegun Obasanjo. Ude was immediately grantedaAsylum in the United States where he continued his Journalism career.