Plot to oust Monguno as NSA thickens; Daura, Burutai tipped as possible replacement
The rift between the National Security Adviser, NSA, Babagana Monguno, a retired Major-General and the cabal in Aso Rock is widening with the cabal pushing to oust Monguno and install a new NSA.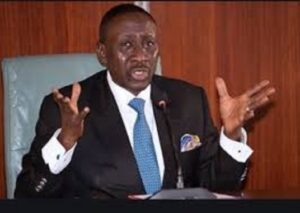 Ex-Director General of the Department of State Services, DSS, Lawal Daura and ex-Chief of Army Staff, Yusuf Burutai, a retired Lt. General, now an Ambassador, top the list of possible replacement.
Monguno has been having a running battle with Aso Rock cabal initially led by former Chief of Staff to President Muhammadu Buhari, Abba Kyari. However since the death of Kyari who died of Covid-19 in June, 2020, Sabiu Yusuf, aka Tunde, a personal aide to the President has been spearheading the plot to ease Monguno out of the system.
Appointed on July 13, 2015 by President Buhari, Monguno whom Aso Rock insiders said is loved by Buhari, has raised the red flag over certain inconsistencies and unwholesome, even unprofessional conducts, within the nation's security apparatchik to the anger of the cabal who felt indicted by the NSA.
Monguno was said to have always insisted that security issues including arms procurement should be handled discretely and professionally by only persons conversant with such matters, a position some members of the cabal felt was an affront on their involvement in the nation's security affairs.
On December 9, 2019, Monguno wrote a letter to President Buhari alerting him to the unprofessional conduct of Abba Kyari whom he accused of holding court with service chiefs without the consent of the NSA. The memo caused a huge stir in the Presidency and was viewed as an act unbecoming of an NSA.
In the memo, Monguno alleged that Kyari was fond of giving directives to the service chiefs, sometimes without the knowledge, much less approval of President Buhari and himself as NSA, a practice, he said, has contributed to government's inability to contain insecurity in the country.
He wrote: "Chief of staff to the president is not a presiding head of security, neither is he sworn to an oath of defending the country.
"As such, unprofessional practices such as presiding over meetings with service chiefs and heads of security organisations as well as ambassadors and high commissioners to the exclusion of the NSA and/or supervising ministers are a violation of the Constitution and directly undermine the authority of Mr President.
 "Such acts and continued meddlesomeness by the chief of staff have not only ruptured our security and defence efforts but have slowed down any meaningful gain that Mr President has sought to achieve," the letter read.
Monguno's memo to the President was considered a direct attack on the cabal which had Sabiu Yusuf, Mamman Daura, President Buhari's nephew, and Lawal Daura as members. Shortly after the death of Abba Kyari, the cabal was said to have picked the gauntlet to push for the ouster of Monguno.
However, in spite of the outburst of Monguno as contained in his memo, Buhari rewarded him shortly after the letter trended with yet an extra responsibility. He was named as Co-Chair along with Humanitarian Affairs Minister, Hajiya Sadiya Umar Farouk, for the then newly formed National Humanitarian Coordination Committee, an indication that President Buhari is pleased with his service to the country.
One of the strategies to effect the ouster of Monguno was to stick a tag of corruption on him. Recently, there were moves to investigate Brigadier General Jafaru Mohammed, a Director of Finance in the office of the NSA.  General Mohammed is suspected to be a front of the NSA whom they allege has acquired choice properties on behalf of Monguno.
Those tipped to replace Monguno are not without their own controversy. Burutai was once accused of owning properties in Dubai, an allegation he defended, explaining that his Dubai property was bought with proceeds from his farming business.
Daura himself was sacked on August 7, 2018 as DG of DSS by then Acting President Yemi  Osinbajo following a siege to the National Assembly by men of the DSS, an act many described as insurrection against constituted authority.