Ramadan: Muslim faithful bank on Konga for nourishment, personal care needs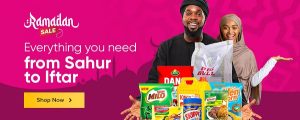 As Muslims in Nigeria join millions around the world in observing the holy month of Ramadan, Konga, Nigeria's leading composite e-commerce giant, has emerged a prime destination for the fulfilment of their nourishment and personal care requirements.
Ramadan is the ninth month of the Islamic calendar observed by Muslims worldwide as a month of fasting, prayer, reflection and community.
With adherents expected to fast between dawn and dusk in a mood of introspection, communal prayer and reading of the Quran, the physical demands of the taxing period often take a toll, necessitating the importance of personal care and proper nourishment during meal times. Consequently, findings indicate that Konga has been identified as the preferred source for food items, groceries, beverages/refreshments and other essentials for the Ramadan season.
The foregoing is justified by the carefully curated array of product categories and packages available on www.konga.com for the season, all at highly discounted prices. Among these are the aptly named Sahur and Iftar packages, Groceries, Juices/Drinks, Personal Care, Fashion, Under 10k Shop, Under 20k Shop and Ramadan Special.
Under Sahur, widely known as the meal consumed early in the morning by Muslims before fasting or before dawn, Konga has put together a wide variety of food items such as bags of rice, noodles, pasta, cereals, beverages, cooking oil and wheat flour, among others. For Iftar, traditionally regarded as the fast-breaking evening meal in Ramadan, Konga is offering shoppers an assorted package featuring grains, seeds, fruits and nuts including grapes, dates and processed dates powder, apples, almonds, cashew nuts, clove seeds, garri flour, instant soup packs, rice, quinoa, etc. Under Groceries, Muslim faithful and other shoppers are treated to a vast array of products cutting across beverages, cereals and breakfast food, soups and canned goods and much more. For Juices/Drinks, Konga provides a long list ranging from bottled water, malt drinks, assorted non-alcoholic drinks, fruit wines, juices and healthy drinks, etc.
With the Under 10k Shop and Under 20k Shop, shoppers who visit the Konga platform can access a suite of products and items across categories priced at less than N10,000 and N20,000 respectively. On offer in the Personal Care package is a combination of beauty and health care products to help shoppers cope with the arduous fasting season by keeping their skin, bodies and minds refreshed. On its part, Fashion has a package featuring male and female items such as turban and turban caps, fabrics, footwear, shawls/scarves, handbags, hijabs, jilbabs, abaya, etc. For Ramadan Special, Konga has isolated key items required for the season such as large and pocket prayer mats and rugs, Islamic Electric Incense burners, Islamic artworks, canvas frames, prayer kettles, a variety of Islamic literature and books, pendants and much more.
A month-long event, the season is expected to give way to the holiday of Eid al-Fitr which marks the end of Ramadan.