Rivers Cassava Processing Company to save $1 billion in capital flight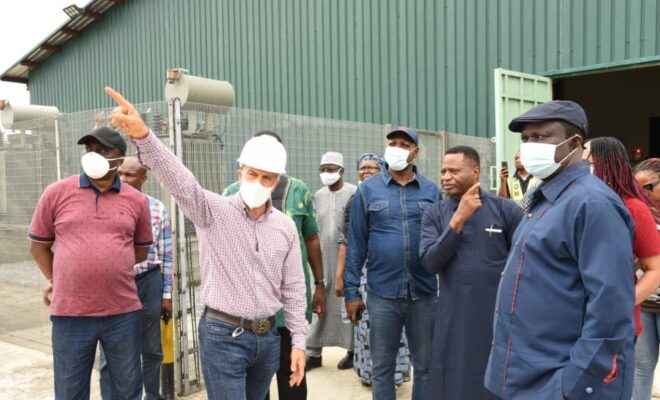 Mr. Ruben Giesen, Managing Director of the Rivers Cassava Processing Company Limited says the cassava flour processing factory has the capacity to save the nation up to $1 billion in capital flight as well as provide over 4,500 jobs for Rivers State people.
Nigeria spends billions of naira importing flour every year. Based on the principle of multiplier effect, it could go up to 15,000 direct and indirect jobs.
The cassava processing factory is a bold private sector led initiative involving  the Rivers State Government through RSSDA, the Dutch Agricultural Development & Trading Company BV (of the Netherlands), the Shell Petroleum Development Company of Nigeria Limited, the Netherlands Embassy in Nigeria and International Fertilizer Development Company (IFDC), an international Agro-focused NGO.
Mr. Giesen disclosed this while conducting some editors round the factory which will kick-start full operations in the coming months. According to him, the factory has already commenced test-run during which scores of buckets of cassava starch (with reduced moisture content of 12 percent from 95 percent) have been produced, waiting to be converted to flour. Processed cassava starch with only 12 percent moisture content has a shelf life of about six months. This means that the starch can last up to six months before being turned into flour.
The factory is complemented by three mobile cassava processing plants which is moved from one cassava sales point to another thus bringing the plant closer to cassava farmers.
Giesen noted that the plant when completed would increase income for small holder farmers by providing an enabling environment for them to sell their cassava tubers. It provides a ready market for cassava growers removing risk of loss of produce on account of poor storage infrastructure.
He also disclosed that the plant would produce about 45 thousand metric tons of cassava flour daily while about 12 thousand metric tons of cassava tubers would be needed for collection by its mobile plants from farmers around the state for processing.
The plant located at Afam, Oyigbo Local Government Area will soon come on stream, says Governor Nyesom Wike who recently after inspecting the plant, noted that the company when fully operational would employ 4,500 persons and also boost agriculture in the state.
"We are quite happy that this project which was initiated by the previous administration in 2012 and abandoned has come to the stage of completion.
"When we came on board and saw the usefulness of this project to our economy, we did not hesitate to release funds to complete it.
"As you can see this project which is about 90 percent complete would have been commissioned before now if not for the COVID-19 pandemic which has negatively impacted global economy.
"Let me commend the management of this plant for fast-tracking the completion and the novel initiative that will use mobile machines to collect cassava from the farmers at their various clusters.
"This, will no doubt, reduce the challenge of logistics and increase farmer participation, " the governor said.