Okorocha mocks Ihedioha, calls him Amadioha in new video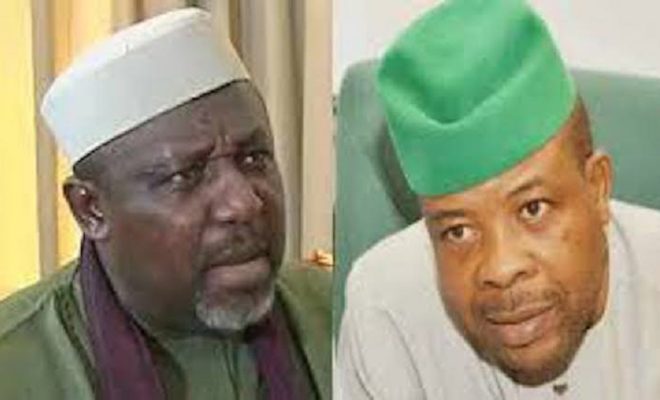 Senator Rochas Okorocha of the All Progressives Congress, APC,  has described Rt. Hon. Emeka Ihedioha of the Peoples Democratic Party, PDP,  as "a mad man" in a trending video monitored by Political Economist. He also derogatorily named him Amadioha (an Igbo deity) in mocking mimic of Ihedioha.
Political Economist reports that Rochas was addressing his followers in the aftermath of the controversial Supreme Court ruling which returned Senator Hope Uzodinma of the APC as the validly elected governor of Imo State and sacked Ihedioha.
"Something happened that made something to happen, but I am happy that this other man who behaves like a mad man called Emeka Amadioha (Ihedioha) has at least returned to where he came from," Okorocha told his followers who gushed with laughter.
Meanwhile, ousted Emeka Ihedioha has returned to the Supreme Court to seek a review of the judgment that removed him from office.
The court had on January 14, 2020 sacked Ihedioha on the ground that he did not score the lawful majority votes in the March 9, 2019 governorship election.
Controversially, the apex court, after adding the cancelled results of the 388 polling units to the votes scored by Senator Hope Uzodinma, ordered that he be immediately sworn in as the duly elected governor.
In a unanimous judgment delivered by Justice Kudirat Kekere-Ekun, the apex court held that Ihedioha was not duly elected and that "his election was void and illegal."
The court consequently set aside the judgment of the Imo State Governorship Election Petition Tribunal and that of the Court of Appeal, both of which had refused to recognise the votes from the 388 polling units and to accept that the results were unlawfully excluded in the general collation.