Sanwo-Olu promises to provide relief packages for Balogun market fire victims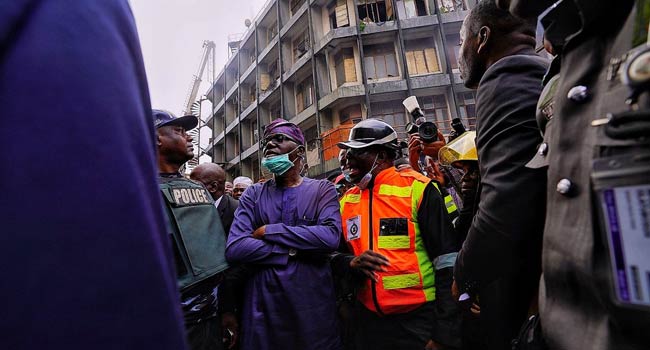 Gov. Sanwo-Olu at the scene of the Balogun fire incident
Lagos State Governor Babajide Sanwo-Olu has promised victims of Lagos Island Market Fire support and relief packages.
The governor, who made the promise in a post on his official Twitter handle, also described the accident  as "regrettable, but we must all take the learnings; Safety awareness and practices involve everyone".
He visited the scene of the accident on Wednesday and directed that integrity test be carried out on all the affected buildings.
"I visited the scene of the unfortunate fire incident at Balogun Market and spoke directly with the victims and emergency services. We will provide support and relief packages to the affected individuals".
"Clearly, we will need to complete the modern and safer market project in the area because this inferno has disrupted commercial activities and exchanges in one of the most popular markets in Nigeria".
"This fire incident was caused by factors that could have been avoided and even though emergency services were on ground promptly. The building could not be rescued due to congestion and other issues," the governor tweeted.