PDP Convention: Saraki congratulates Atiku, lauds PDP members for success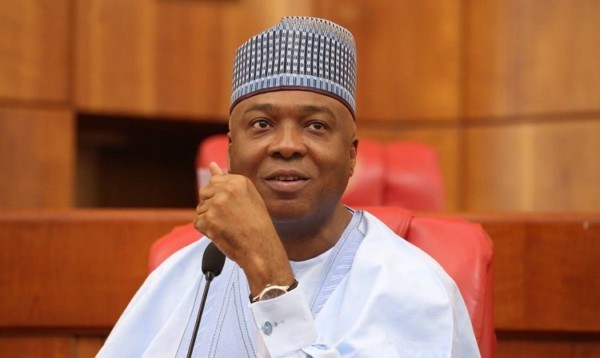 Bukola Saraki, Senate President
The Senate President, Dr Bukola Saraki, has congratulated former Vice President Atiku Abubakar for emerging as the Presidential flag bearer of the Peoples Democratic Party (PDP) at the just concluded national convention of the party held in Port Harcourt.
Saraki in a statement by his Special Adviser, Media and Publicity, Mr Yusuph Olaniyonu in Abuja on Sunday, commended the delegates to the convention and lauded members of the organising committee, led by Gov. Ifeanyi Okowa of Delta, for holding a convention in which a candidate was elected in a free, fair, transparent and rancour-free atmosphere.
"Our just concluded convention is an event which the country can show-case as an example that democracy has a future in Nigeria and that when we are determined, we can elect our leaders without any manipulation, intimidation and violation of the law and democratic norms".
"The credit goes to the leadership of our party led by Prince Uche Secondus, the organising committee led by Gov. Okowa, the numerous delegates who came from across the country and conducted themselves in a civil, mature and democratic manner. I give kudos to them.
"My commendation also goes to the government and people of Rivers, for providing the best necessary facilities for hosting over 5000 delegates, campaign workers, security personnel, observers, media people and others who came to play one role or the other in the convention".
"More importantly, let me congratulate the winner and new flag bearer of our party and all the fellow aspirants for running credible and mature campaigns. I congratulate them for working all along to reassure millions of our fellow party members and other Nigerians that PDP will leave the convention venue more united and ready to work together to form the next government at the federal and other levels."
He said that the PDP members were ready to unite the country, grow the economy, carry along all stakeholders, empower the youths and make government serve the people better.
"All the other aspirants, especially myself, are ready to walk and work with Atiku to spread the positive messages of the PDP and his campaigns in every nook and cranny of the country such that the PDP will win the 2019 general elections. Those who expect that the party will degenerate into crisis after the primaries have miscalculated. We will all work for the Atiku-PDP ticket to succeed and contribute ideas into solving the problems confronting Nigeria today."
Saraki added that the PDP National Convention in Port Harcourt which took place from Saturday to Sunday was a victory for Nigeria and for democracy, stressing that "we will not lose the momentum but sustain it to rebuild Nigeria and elect Alhaji Atiku Abubakar as the next President of Nigeria."
(NAN)