These Shiites are not afraid to die, witness recounts Abuja horror; over 50 killed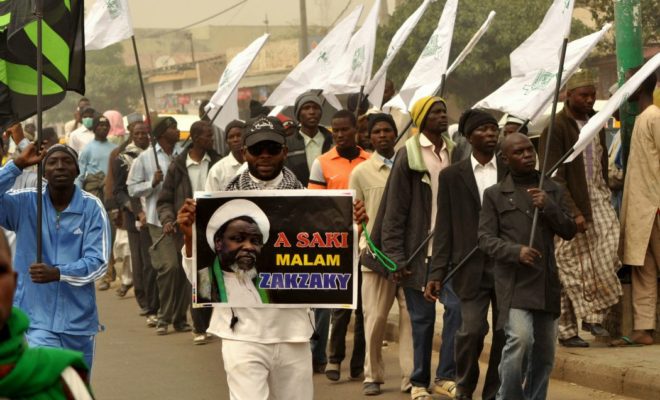 Leaders of the Islamic sect, Shiite, who had a showdown with security authorities in Abuja on Monday claimed that no fewer than 50 of their members were killed by the Nigerian security authorities.
A member of the Shiite group, Mohammed Gamara, who spoke with reporters in Abuja said over 200 were also injured. He said their protest was a peaceful one but the Army turned it into an "opportunity to kill our members". But he failed to justify why the Shiites blocked the only road into and out of Abuja city from Nasarawa State.
"So far, I don't have the exact number of the casualties and the martyrs but if we say they are more than 50, killed by the Nigerian Army, I don't think I will be exaggerating," Gamara said.
Scores of Shiites members were feared dead in Abuja as the Islamic sect engaged a platoon of security men made of Army and the police in fierce gun duel In Karu area of Abuja.
A witness who scurried to safety from the scene said: "I have never seen anything close to this. People were being shot and more were advancing not minding the bullets. These Shiites are daring. They are young and clearly they were not afraid of bullets. They were not afraid to die.
"Initially, the securitymen were shooting into the air to scare the Shiites who had blocked the Karu bridge side of the Abuja-Nyanya-Keffi road but the Shiites kept advancing and throwing pebbles at the security men. Some had machetes and clubs and it was obvious they were not afraid of death".
The witness who preferred not to be named called for a more decisive action against what he described as impunity of the Shiite members.
"They just blocked the road. People are holed up in traffic for hours because of them; this is unacceptable", he said.
The confrontation started about 4.30pm Monday following a procession embarked by members of Shiite who were chanting songs and advancing towards Abuja after effectively blocking traffic in and out of Karu.
Their procession was said to have started from Nasarawa area and continued towards Nyanya and Karu enroute to Abuja city centre before they were confronted by a garrison of military personnel. The confrontation resulted in gun duel that shattered the peace of the communities sending motorists and commuters scurrying to safety.
The FCT Police Command said 115 members of Islamic Movement of Nigeria (IMN) also known as Shiites were taken into custody following Monday's protests in Abuja.