I am a soldier born to die – Last words of a soldier killed by Boko Haram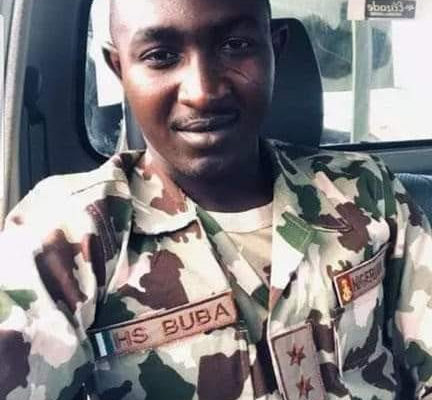 A soldier identified as Hamza .S. Buba who was killed at the battle ground with Boko Haram insurgents ahead of his death gave a moving message to the nation and his family.
The soldier said to be a highly committed and dutiful warrior in the fight against insurgency for his message got accolades from Nigerians on social media. His picture and message had long gone viral both on Twitter and Facebook.
His message and subsequent, some Nigerian said, underscored the fact that the war and battle against Boko Haram is yet to be worn contrary to the claims of the Buhari government.
His message: "If l die in a war zone, box me up and send me home. Put my medals on my chest, tell my mom l did my best. Tell my dad not to bow, he won't get tension from me now.
"Tell my bro to study perfectly, key of my car will be his permanently. Tell my sister not to be upset, her bro will take a long sleep after sunset. Tell my nation not to cry, because l am a soldier born to die, but never to be forgotten."
Ewuola Aderoba in a condolence wrote: "Although you charge us not to cry, our tears are in appreciation of your sacrifice. Sleep well warrior."
Azubire Joseph Humble wrote: "That's how I wanna end my days. Die for something meaningful. Sacrifice so others can live. I love you. May your great soul rest in perfect peace. I salute you."
For John Ayodele: "My pride my gallant officer and my brother who paid the supreme price for me to have peace, rest in peace. May God be with those you left behind."