South Africa on the boil as Tutu joins anti-Zuma protesters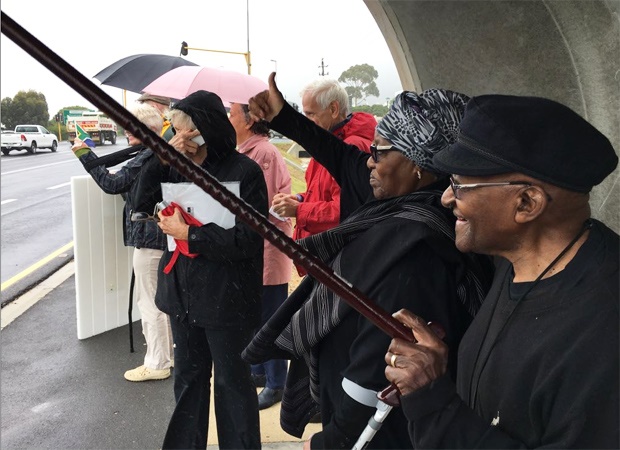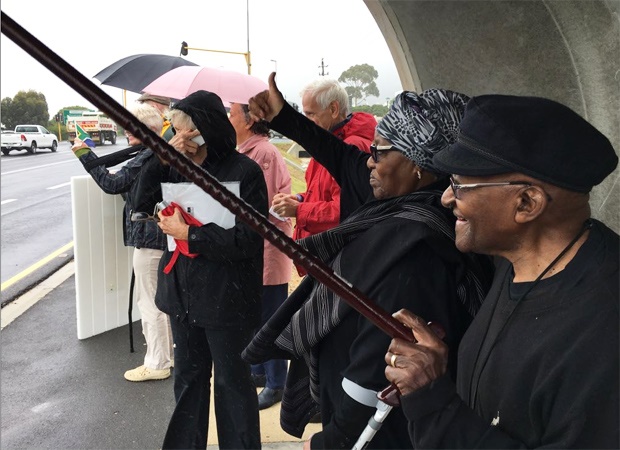 Archbishop Emeritus Desmond Tutu, now 85 years old, and his wife Leah on Friday joined protesters outside the retirement home they are staying at in Hermanus, to add their support to nationwide anti-Zuma marches.
Thousands of residents around South Africa have embarked on protest marches, or have formed human chains along streets, to express their unhappiness with President Jacob Zuma and corruption.
Zuma's sacking of Finance Minister Pravin Gordhan in the reshuffle last Thursday has outraged allies and opponents alike, undermined his authority and caused rifts in the ruling African National Congress (ANC), which has governed South Africa since the end of white-minority rule in 1994.
Rating agency S&P Global Ratings cited Gordhan's dismissal as one reason for its downgrade of South Africa to "junk" in an unscheduled review on Monday.
Syriana Maesela, 65, a retiree was on her way by train to Pretoria to join the march carrying a South African flag.
"I am marching to get the ANC to take us seriously and respect our wishes by letting the president go," she said. "We are unhappy about his leadership because he does not seem to care about the people.
"The irony is I did the same thing in 1976 when I was a student. I also marched then," she said, referring protests against the apartheid regime.
Zuma welcomed one of the marches, by the civil society group Save South Africa (SaveSA) that was planned for outside the Union Buildings, the site of Zuma's offices in the capital, Pretoria, saying it was the group's legal right to do so.
SaveSA is made up of civil society groups, business leaders and prominent individuals.
Zuma, 74, has faced protests in the past. The ANC on Wednesday rejected calls for Zuma to quit, and analysts doubted marches would shake the president.
And his supporters also gathered to support him. About 300 camouflage-clad veterans of the ANC's now-disbanded Umkhonto we Sizwe military wing ringed the party's Luthuli House building in downtown Johannesburg, mounting mock parades and singing in support of Zuma.
Some clad in the yellow, green and gold colours of the ANC also danced, waving placards emblazoned with the words: "I'm prepared to die for my ANC" and "Hands off our President".
The rand was steady against the dollar in early trade on Friday. The currency has tumbled more than 11 percent since March 27, when Zuma ordered Gordhan to return home from overseas talks with investors, days before firing him.
"The rand has stabilised," Rand Merchant Bank currency strategists John Cairns said. "The marches and the looming weekend will keep the market cautious."
In the country's commercial hub, Johannesburg, several residents stood along the roads, waving placards demanding that Zuma step down.
Mmusi Maimane, leader of the main opposition Democratic Alliance (DA) party, was due to lead a march in downtown Johannesburg, where thousands of marchers wearing blue DA T-shirts gathered to start the march, with many bussed in from other areas. Some held placards saying "Fire Zuma".
"This president is mishandling the presidency and he should leave office," said Graham Fish, 62.
A "holding hands" picket was due to take place in Cape Town, where motorists hooted in support of the march holding up South African flags. About 2,000 people were also marching in coastal city of Durban.
Photo: Top: Tutu with wife, Leah, joins the protest; courtesy News24