Spain fines 31,000 for flouting Covid-19 lockdown rules, records 1,326 deaths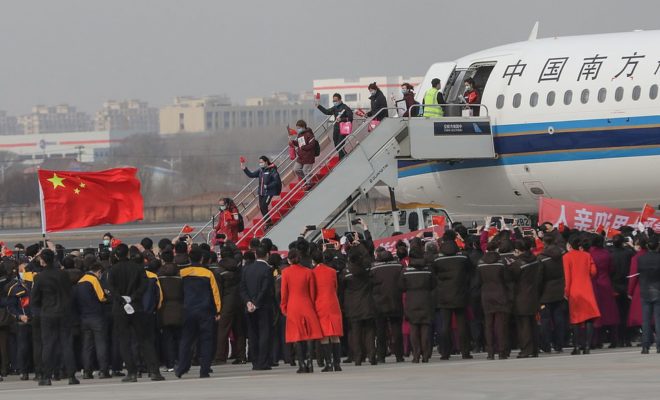 Spain has announced 324 new coronavirus deaths while the number of cases in the country surged nearly 5,000 up to 24,926.
Spain's Health Ministry said today that COVID-19 deaths had risen to 1,326 from 1,002 in the space of 24 hours.
News of the rising death tally comes as it was revealed that more than 31,000 people have been fined for flouting the lockdown rules announced by Spanish PM Pedro Sanchez last Saturday.
Another 350 have been arrested nationwide, Interior Minister Fernando Grande-Marlaska has revealed.
Police stopped a couple caught having sex in a parked car in the street in the Madrid neighbourhood of Villaverde.
They were told to go home after claiming they could not get intimate with each other where they lived because they shared with too many people.
Several people were fined by police in Alicante after they discovered they were taking it in turns to walk the same dog.
Another four people were fined after police aborted a rave at a hotel nightclub in Leganes near the Spanish capital in the early hours of Thursday morning.
A South American man was arrested by police in Malaga on Thursday near the city's Maria Zambrano train station after going up to strangers in the street and hugging them without their consent.
On Tuesday a 40-year-old woman was arrested near the northern Spanish city of Zaragoza for spitting at police officers called to her house following a disturbance. A coronavirus test on her came back positive on Thursday.
The state of emergency introduced just before midnight last Saturday in Spain limits peoples' ability to leave their homes.
Going to work and supermarkets to buy food is allowed as is a short walk with your dog near your normal place of residence so it can relieve itself. Going for a jog or a cycle, even on your own, is not allowed.
Clothes shops, pubs, restaurants, theatres and cinemas are closed.
The lockdown is due to last a fortnight but Spanish government ministers have already said they expect to have to extend it and warned the next few days will be the worst so far.
German cases also rose dramatically today, up 2,705 to 16,662, according to the Robert Koch Institute for infectious diseases.
It said a total of 47 people had died after testing positive, an increase of 16 from a tally of 31 published on Friday.
Hundreds of millions of people worldwide kicked off the weekend under a coronavirus lockdown, as the global death toll accelerated sharply and the World Health Organization warned young people they were 'not invincible'.
The pandemic has completely upended lives across the planet, sharply restricting the movement of huge populations, shutting down schools and businesses, and forcing millions to work from home – while many have lost their livelihoods entirely.
While President Donald Trump insisted the United States was 'winning' the war against the virus, individual states dramatically ramped up restrictions, with New York and Illinois joining California in ordering residents to stay home.
Mailonline