Stand up, take action, save our children from abuse – Peter tells leaders
MAY 28, 2021
Obi said the thought of the future of the children of Anambra and his passion to bequeath them a sustainable State, was part of the reason he saved over 75 billion Naira, left no debt to burden children, the leaders of tomorrow and did all he could to improve educational infrastructure in the State
The Vice Presidential Candidate of the PDP in the last election, Mr. Peter Obi, has called on Nigerian leaders at all levels of government to pause and ponder as the World celebrates the 2021 Children's Day.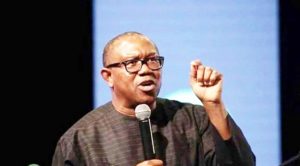 He expressed concern at the rate of child abuse these days, calling on governments at all levels to take drastic measures to stem the tide.
Obi made these remarks while speaking to the media after delivering the Key Note Speech at the Aba Business Leadership Summit at the Aba Sports Club, Aba, Abia State.
Obi, who recalled that he had always spoken a slogan, "The society we abuse today will take its revenge on our children tomorrow", said that the slogan was borne out of the pattern he observed over the years, where politicians do not think about tomorrow and about the children, believing that countries survive by recklessness and extravagance.
Obi, who said the thought of the future of the children of Anambra and his passion to bequeath them a sustainable State, was part of the reason he saved over 75 billion Naira, left no debt to burden children, the leaders of tomorrow and did all he could to improve educational infrastructure in the State, among others, advised those in the helm of affairs to take the opportunity of this year's children's day to think deeply about them and about their welfare.
Obviously unhappy at the rate of abuse of children these days, Obi called on government to come out with more strident measures to tackle the menace.
Speaking further, Obi categorised retirees and old people as children arguing thus: "because they have passed their productive age, they now depend on their pensions and gratuities to survive". He also called on the leaders to strive to pay such category of people their pensions and gratuities.
"I do not know what it is now, but as Governor, I cleared arrears of pension and gratuities owed workers to the tune of over 35 Billion Naira. I urge everybody concerned to treat these people with reverential care and love,' Obi said.
He wished all Children well and urged them to always open their minds to learning good and beautiful ideas that will sharpen their future.