Stop the killings, not all Igbos are IPOB, agitators have a right to speak – Onyeka Onwenu, group tell FG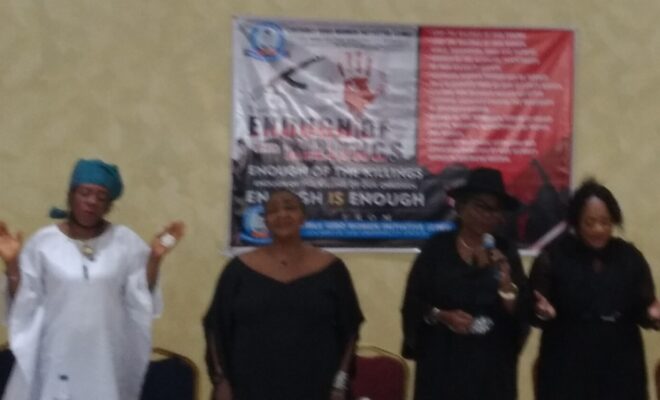 June 11, 2021
By: Theresa Igata
Following the wanton killings and destruction of properties across the country, many say Nigeria is at a crossroads and have called for all hands to be on deck to save the country from imminent collapse.
Individuals, groups and even state governments have continued to urge the Federal Government not to renege in its constitutional mandate of protection of lives and properties of every citizen.
As the call for peace in the country continues, a group of concerned women, under the aegis of Credible Igbo Women Initiative, have asked the Federal government to stop the killings in Nigeria and especially the South East.
Speaking at a national press conference organised by the group on Thursday in Lagos, on presentation of facts in pursuit of peace in Igbo land, themed: Enough of this killings, Nigerian musician Onyeka Onwenu alluded to the fact that the country is not at war yet more people are being killed.
Onyeka called for peace in the South East while urging the Federal government to withdrawal of troops from the region.
"Do not tag all Igbo people as IPOB. You may not agree with their agitations but they have the right to speak. There should be a form of dialogue, conversations," she said.
"I think those doing the killings are known, help us find those causing the problem and stop killing innocent citizens in Igboland."
However, in a communique at the end of the event, the group vehemently condemned the activities in Igboland by both known and unknown gunmen, arsonists and brigands whose actions are clearly calculated to create an atmosphere of civil unrest".
The group denounced the activities of such persons saying, "they're not acting under the authority of Ndigbo".
In the communique signed by women leaders from 7 states in the South East and Ohaneze Ndigbo South West and Lagos Chapter, and the South South, the group demanded that the Federal Government convoked a security conclave forthwith.
It called for the removal of killer squads in Igboland, compensation who have lost loved ones and to embrace sincere diversity and inclusion.
Caption: Onyeka Onwenu leading a prayer session at the press conference