Fuel Subsidy: Queues return, prices go up; NNPCL welcomes removal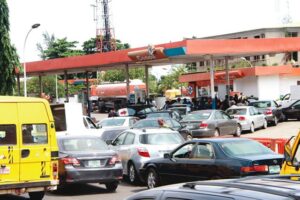 Hours after President Bola Tinubu pronounced the end of fuel subsidy in his inaugural address, fuel queues returned in different parts of the country with upward adjustments of prices.
In Asaba, Delta, fillings stations which sold fuel at N200 per litre jerked up the pump price to N290.
Some others pushed their prices to N310, while some settled at N300.
The Tinubu announcement also triggered panic buying in Lagos and Abuja. Some filling stations simply closed sales apparently waiting to see what their competitors would do.
Meantime, the Nigerian National Petroleum Company Limited (NNPC Ltd) says the decision to remove subsidy on fuel by President Tinubu is a welcome development.
Malam Mele Kyari, Group Chief Executive Officer (GCEO), NNPC Ltd. said this at the NNPC Ltd. Towers in Abuja while briefing journalists late Monday night.
Kyari, while addressing the newsmen said the removal of the subsidy which had been a burden on NNPC's cash flow would free up funds to enable optimal operations in the company.
"Subsidy has been a major challenge for NNPC's continuous operations, we believe that this will free up resources to enable us continue to do great work and function as a commercial entity, we welcome this development,'' he said.
Reacting to queues and scarcity already being experienced, the GCO assured Nigerians of sufficient supply of products particularly the PMS, adding that the company has over 30 days of PMS storage and supply.
"There is no reason to panic, we understand that people will be scared of potential changes in price of petrol, that is not enough for people to rush to buy more than they need,'' he added.
He however appealed to Nigerians not to be scared or indulge in panic buying.
He added that the company as the supplier of last resort as mandated by the Petroleum Industry Act (PIA) would continue to ensure availability of PMS and other petroleum products.
According to him, the NNPC Ltd. is also monitoring all its distribution networks to ensure compliance.
"The NNPC Ltd. is in discussion with the Nigeria Midstream and Downstream Petroleum Regulatory Authority (NMDPRA) to develop framework of the implementation of the removal of the PMS subsidy as announced by the President," he said.