Supreme court adjourns hearing of Ihedioha's case seeking for judgement reversal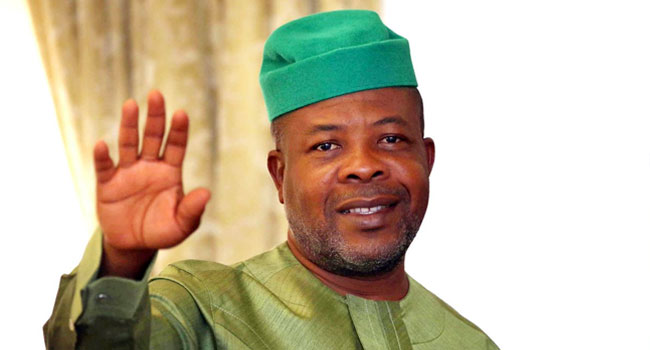 Former governor of Imo State, Emeka Ihedioha
The Supreme Court has adjourned the hearing of former governor of Imo State, Emeka Ihedioha to March 2, 2020.
Mr Ihedioha approached the apex court with an application to reverse itself on the judgement sacking him from office as governor.
The Supreme Court had fixed today to hear the appeal filed by Ihedioha of the Peoples Democratic Party (PDP), one month after it sacked him on January 14 and declared the candidate of the All Progressives Congress (APC), Senator Hope Uzodinma, as the duly elected governor of Imo State.At the hearing today, lawyer to Mr Ihedioha, Mr Kanu Agabi, filed an application stating that he needs a little time to file some processes before the Court.
Lawyers to Governor Hope Uzodinma and the Independent National Electoral Commission (INEC) did not oppose the application.
The seven-man panel of the apex court led by the Chief Justice of Nigeria, Justice Tanko Mohammed, after listening to all the parties, adjourned the hearing to March 2, 2020.
Ihedioha argued in a motion filed on his behalf by the former Attorney General of the Federation and Minister of Justice, Chief Kanu Agabi, SAN, leading other seven Senior Advocates of Nigeria and four other lawyers that, the order of the Court of Appeal striking out Uzodinma's petition for being incompetent raised a jurisdictional issue which the Supreme Court ought to have resolved before delving into the merits of the appeal.
Ihedioha contended that the judgment sought to be set aside is a nullity in that it was delivered without jurisdiction by reason of the following: "Having regard to Section 140(2) of the Electoral Act (as amended), the appellants/respondents divested this court of the relevant jurisdiction to declare the first appellant/ respondent as the winner of the gubernatorial election conducted in Imo State on March 9, 2019 by branding or stigmatising the entire election as invalid
Ihedioha and PDP held that the apex court did not have the jurisdiction to declare that Uzodinma was duly elected in the absence of any proof that the votes ascribed to him met the mandatory geographical spread stipulated in section 179 (2) of the constitution.