How to survive the last week of January on a budget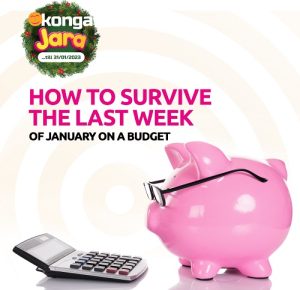 January is renowned for being a month of extremely slow days, mounting bills and a long, grinding wait for pay-day. This is often the case for folks in paid employment.
However, the difficulties that traditionally accompany the month of January impact entrepreneurs or those in business as well. Usually, discretionary or disposable income is often limited and tightly guarded, with many potential customers trying to wade through to the end of the month after the customary lavish spending that trailed the previous year-end festivities.
With the current fuel scarcity plaguing most parts of Nigeria burning deeper holes in the pockets of the average Nigerian, there is a common consensus among many to see the back of January. Beating the sapa occasioned with the January season often requires a certain level of skill and wits. It is better to stroll into February (the month of love) with a meagre balance or even broke than to enter it on your knees with a crushing bundle of debts on your back.
Here are a few ways you can see out the last week of the month in flying colours on a tight budget, courtesy Konga, Nigeria's leading composite e-commerce company.
1 Make Garri Your Friend
Just kidding, but then you might want to invest a little of your scarce resources on food or foodstuffs that are not so expensive but last for a long time. Food items like Garri, Bread, Beans, and the like, as they allow for varieties, would definitely come in handy if you are the type that cooks their own meals.
2 Substitute
We know our help comes from God, but at times like this, you might like to forego your normal routine and go with more budget-friendly options. Instead of ordering an Uber or a ride to work as you'll typically do, you may have to wake up earlier and commute via public transport. You can also substitute your expensive beverage for a 3-in-1 coffee or tea; instead of buying that pricey loaf of bread, you could opt for a biscuit instead.
3 Spend more time with friends and family members
The famous saying "The more, the merrier" has never been more beneficial. When things are tight, the best exit route is to be with people who could help lighten the load. With friends, you could share your resources and make the best out of the situation.
4 Be Content
This last week of January, beating sapa entails being content with yourself. In fact, phrases like YOLO or "If I perish, I perish" would do you more harm than good. Avoid frivolities, get only the necessities, understand that all fingers are not equal, and be content with what you have. Mr. James' brokenness could be your average level, so no matter where you find yourself, cut your coat according to your cloth.
5 Look out for Cheaper deals
Most importantly, a major element to seeing yourself through January smiling is to be alert to juicy offers or the best deals. There is always an advantage to it, that satisfaction that comes from walking away with a sweet deal on a purchase. This is one of the reasons you must embrace Konga when it comes to shopping for all your items this period. In fact, the ongoing Konga Jara promotion remains your best bet. It is an open secret today that most items are cheaper at Konga and you also enjoy the benefit of guaranteed quality and swift delivery.
In summary, if you're able to stick to the points mentioned above, you're well on your way to surviving these last 77 days of January, while leaving many of your peers wondering how you managed to pull through in such brilliant fashion.