Taraba South Senate: APC's Jimkuta floors Gov. Darius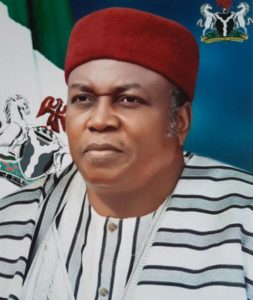 By Gabriel Yough
Gov. Darius Ishaku and the Peoples Democratic  Party (PDP) Senatorial candidate for Taraba South has lost his bid to the All Progressives Congress (APC ) candidate, Mr David Jimkuta.
Announcing the results in Wukari on Monday, Prof. Adeyeye Solomon, the Returning Officer for the senatorial election, said Jimkuta scored 85,415 votes to defeat Ishaku who got 45,708 votes.
The results from the various local government areas that make up the zone indicate that the APC candidate polled 17,607 votes in Donga Local Government Area while Ishaku clinched 10,492 votes.
The APC got 13,087 votes as against PDP's 8,092 votes in Ibi LGA, 22,246 votes against 4,098 votes in Ussa/Yangtu, 20,892 votes against 12,988 votes in Wukari and 11,581 votes against 9,640 votes from Takum.
According to him, the APC candidate won in all the local government areas including the governor's home town of Takum.
Meanwhile, the Senate Deputy Minority Leader, Sen. Shu'aibu Lau, has  won his re-election bid for Taraba North Senatorial district.
Taraba North comprises six local government areas of Jalingo, Lau, Karim Lamido, Zing, Yorro and Ardo-kola.
The Returning Officer for Taraba Northern Senatorial District, Prof. Chibiya Chingu, who is the DVC Central Administration, Federal University, Wukari, said the candidate returned elected after polling  74,645 votes to defeat his closest APC opponent, Sani Danladi, who netted 61,878 votes. (NAN)