VICTOR UMEH ON ARISE TV: THE LIES AND FIBS OF A STOOGE
November 3, 2021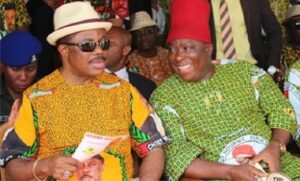 ON ROADS
During the arise interview of yesterday, Chief Victor Umeh openly called Mr. Peter Obi a liar. Because of that singular indiscretion and exhibition of his inherent "Agbero' nature, some people thought Mr. Peter Obi would rain thunder on him. However, in his usual calm and maturity, Obi said he was not willing to join issues with Chief Victor Umeh. Besides not measuring height among unequal, Obi understood the likelihood of mistaking the mad man and his purser as both mad, especially when both are Papal Knights.
While speaking, Chief Victor Umeh, the bearer of "truth," said that Gov. Willie Obiano had COMPLETED 55 ROADS HE INHERITED FROM MR. PETER OBI.
No need arguing with Chief Umeh. To make the matter easier for him, I have taken time to list the roads Obiano inherited and now challenge Chief Victor Umeh to tell us the 55 he has completed. Readers can also react by way of telling us if the roads in their towns as listed have been completed.
We shall take the issues he raised one after another to establish who is really the liar here. We want to establish who among the two collects 20 Million monthly from the state government to defend her even when she is carrying out the most anti-people programme and policies.
Here are the roads:
Construction of Access Road to High Court Building and Hon. Judges Residence at the Executive Business District, Awka. (1st Phase)
Reconstruction of Oyeagu – Abagana – Ukpo – Abba Junction (Enugu – Onitsha Expresssway)Construction of Uzoakwa – Ubahuekwem – Oseakwa Road with spur to Oluoha Okechukwu Road Ihiala
Construction of Okpuno – Umuenem Street Otolo Nnewi – Awka Etiti Road.
Construction of Onwurah – Ogechukwu Road Awka
Construction of G.O. Ibekwe Road Off Kenneth Dike Library Okpuno
Construction of Ogboefere via Obodoukwu Junction by Onitsha Asaba Express Road with spur to C.Uba Close Niger Bridge Head Industrial Layout Ogbaru
Construction of Okpuno – Urum – Amanuke – Achalla Road with spur to Paul University Science School
Amansea – Ndiukwuenu (Phase 1 & 2)
Nkwo Market Square – Umuoji Micro Finance Bank Ekeagu Abatete Road
Atani – Ozubulu Roads Part 1 Km 0+000 -5+560
Atani – Ozubulu Roads Part 2 Km 5+560-11+120
Construction of Access Road to High Court Building and Hon. Judges Residence at the Executive Business District, Awka.(2nd Phase)
Construction of ABS Awka Road to Governors Lodge,Ring Road,Road Widening /Parking Lot
Additional Works on reconstruction of Awka Township road
Repair of Eroded Portions of Onitsha – Atani – Ossamala – Ogwuikpele Road
Recunstruction of Abube Square Nando – Afor Igbariam Road.
Reconstruction of Isuofia – Umuona – Nanka Road with Spur.
Reconstruction of Ndiowu Road with Spur
Reconstruction of Ekwulobia Ezinifite Road
Reconstruction of Umudioka to Ogbunike Cave Road with Spur to Girls Secondary School Umudioka (St. Kizito Girls Secondary)
Reconstruction of Bida Road and Okwei Street Onitsha
Construction of Road to Unubi, Off Oba – Nnewi -Uga Highway, Towards Akwaihedi.
Construction of 3 No Bridges at Atani/ Uga Junction, MCC Junction, Tarzan Junction, All Along Onitsha – Enugu Dual Carriageway
Construction of Temporary Access Road and other Ancilliary works through Umueje to Orient Oil Location Aguleri Out
Construction of Aguiyi By-Pass (Agulu-Nwanchi – Obeledu – Neni Road)
Construction of a group of Roads Connecting Onitsha, Obosi and Nkpor
Construction of Access Roads at the Greenwood City, Awka
Construction of Ideani-Uke- Umoji Road and Bridge
Bishop Okonkwo Road (Ichi) to Nkwo Edo Market and Emeka Okwuosa/Emeka Offor Road to St Michael Secondary School Ozubulu/ NAUTH Road Junction
Reconstruction of Aguluzigbo Roads
Reconstruction of Goodwill Road Okpuno Awka
Construction of Nnamdi Azikiwe Teaching Hospital Neni- Adazi Ani Road
Construction of Achina Oneh Agbudu Ogboji
Reconstruction of Anambra State Integrated Livestock Farm Nkwelle Ezunaka
Construction of Jetty/ Roads within the Naval Base and Roads Between Atani Roads.
Reconstruction of Amawbia to Amansea Federal Road
Reconstruction of Enugu/ Anambra State Boundary- Agu Awka Road
Construction of Radio Sapiensa Road, 3-3 Federal Housing Estate Onitsha
Construction of Nteje- Umunya Road
Construction of Umunankwo – Mputu- Ogwuaniocha Road
Reonstruction of Access Road to AUSCO farms Ltd Agu –Awka
Construction of some selected Roads in Onitsha
Construction of Rd 1,2,3,4&6 in some selected Rds inOnitsha
Construction of some selected Roads in Nnewi
Construction of some selected Roads in Awka 1&2
Amansea – Ndiukwuenu – Okpeze- Amaeteiti- Awgbu Road and bridge
Amansea – Ndiukwuenu – Okpeze- Amaeteiti- Awgbu Road Phase 1
Construction of Ugwunwasike – Azu Ogbunike – Amawa – Osile – Ifite – Umueri – St Monica – College Road.
Construction of Ozzu Umunachi Road
Construction of Akwaeze- Adazi Enu Road Road
Construction of Access Road to Civil Servants Housing Estate,Isiagu
Reconstruction of Omor – Umumbo Road Ayamelum Local Government Area
Reconstruction and Rehabilitation of Umuogem Round About to Nwadiani Road Project Ufuma, Orumba North LGA
Additional Works and Spur to Amesi (in the reconstruction of Ekwulobia- Nkpologwu- Akpo – Achina- Umuchu) Road
Construction of Ozoemena Onyali Crescent, Okpuno
Construction of Umuodu Okpuno River Bridge- Tansi International College Gate, Okpuno
Reconstruction of Abube Square Nando- Afor – Igbariam(Additional Road Spur to Nkwo Nando Square)
Most of the abandoned roads were over 70% completed. The Ibekwe road that  leads to Grand Rilvena Hotel, for example had been blinded before Obiano took over.
A few that were completed, like about 3 in Aguluzigbo were those contracted to the man under question.
NOTE: Obi inherited close to 20 roads from Dr. Chris Ngige and completed all of them. Besides the roads Obiano inherited from Obi, is Chief Victor Umeh aware that he flagged off over 160 roads on his own and is yet to complete 3% of the roads?
I am sure his monthly allowance will be increased for being under attack for the Caudillo.
Author: Valentine Obienyem