Violence, shooting mar elections in parts of Lagos as thugs run riot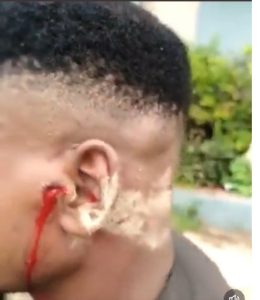 Voting was abruptly stopped at Unit 078, Ward F5, Okeafa, Ilamose Estate, Oshodi-Isolo Constituency 2, Lagos State, as thugs chased voters away at about 10.52 a.m.
A News Agency of Nigeria (NAN) correspondent who went round polling units at Okeafa, Ilamose Estate in Oshodi-Isolo Constituency 2,  observed that some thugs came to the unit and began to throw bottles and stones at voters.
The voters initially attempted to resist the attack but the thugs carried the ballot boxes, scattered the ballot papers and chased voters away.
NAN reports that there was no security operative at the unit before and during the incident.
When the correspondent went back to know if voting would resume, the correspondent observed that INEC staff were already sorting and counting ballot papers.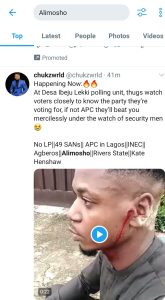 A man, who claimed to be a party agent, told NAN that the INEC workers did not see voters anymore and had to start counting votes.
The thugs did not allow the correspondent to go near where sorting and counting of ballot papers were going on.
Meanwhile, accreditation and voting were going on peacefully at nearby polling units, including 075, 076, 002 and 001.
At Ago Palace Way in Okota, Lagos, there were pockets of violence as thugs in some cases openly said they would only allow voters who would vote for APC and nobody else.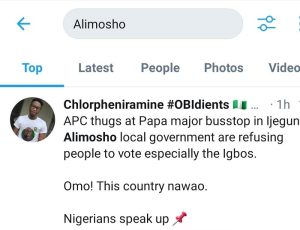 At Ijegun in Alimosho LGA, thugs were seen in viral videos stopping voters of Igbo extraction from voting.
A thug was shot at Starlight Estate in Okota area as he attempted to attack persons of a particular ethnic group who has queued up to vote.
Other pockets of violence were reported in some polling units in other parts of Okota.
Enraged by the development, some of the voters took to twitter to vent their anger at the security agents who they accused of being complicit.