Wesley Girls to represent Nigeria at Stockholm Junior Water Prize competition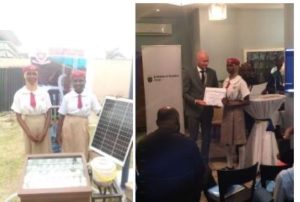 The Wesley Girls Senior Secondary School, Yaba, which falls under Education District IV of Lagos State, will be representing Nigeria at the 2023 Stockholm Junior Water Prize (SJWP) competition in Sweden.
The competition brings together the world's brightest young scientists to encourage their continued interest in water-related issues.
A statement issued by the school over the weekend explained that two students of the school: Abdul-Salam Hajarah and Korolo Elisabeth, won the Nigerian National Water Competition, which was held on May 18, 2023 at the Embassy of Sweden in Abuja.
The statement said: "First the achievement was the doing of God.
"We started a month ago just by putting heads together to showcase what the students have in mind.
"They live in Makoko where there is no drinkable water.
"This triggered the innovation of the students and their teacher, Mr Abiola Oyewale, ran with the project to encourage the students.
"We believe strongly that come August, by God's grace, we will come back with the first position worldwide.
"The team created a device named 'Bithermal Water Distillation Device.'
"This device can convert dirty water to distilled and drinkable water using solar energy directly from the sun with the aid of Fresnel Lens.
"The device also has a DC element connected to the battery and to a solar panel, this setup also generates heat energy that boils the water molecule inside the Distillation Box."
The Principal of Wesley Girls Senior Secondary School, Adeola Bankole, said the pupils' choice of project was initiated by their place of habitation, Makoko, where they had no drinkable water.
The students, led by Oyewale, competed against 60 contestants at the preliminary round, which narrowed down to seven teams, including three from Lagos State: two public and one private, in the National Championship, where the girls emerged winners.
The statement added: "The team is making all necessary preparation for the International Championship where countries like the US and Germany will also contest.
"Over 20 countries normally contest worldwide for a prize of $150,000 every year."
The SJWP is slated for August this year.