WTPO Awards 2018: NEPC Wins Best Initiative to Ensure that Trade is Inclusive and Sustainable, with its Zero to Export Initiative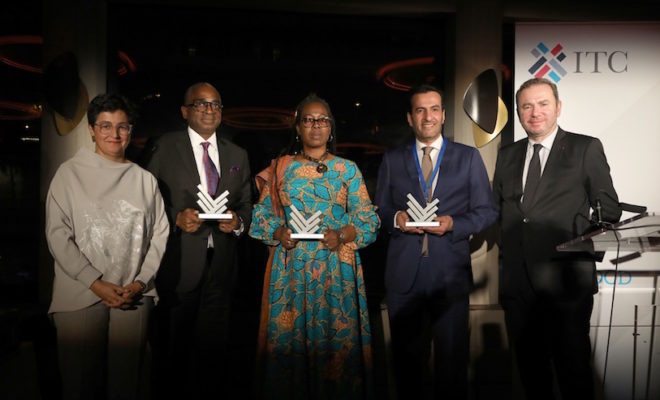 L-R: Executive Director, ITC, Ms Arancha González; Mr Olusegun Awolowo Executive Director/CEO of NEPC; Nigerian Ambassador to France, Dr Modupe Irele and the Chief Executive of Business France, Mr Christophe Lecourtier
The Nigerian Export Promotion Council, NEPC, has won the award for the 'Best initiative to ensure that trade is inclusive and sustainable' at the just concluded World Trade Promotion Organisation, WTPO, Awards in Paris.
The Executive Director of International Trade Centre, ITC, Ms Arancha González, made the announcement during the Gala evening and WTPO 2018 Awards presentation ceremony. She stated that the participating Trade Promotion Organisations who responded to ITC's invitation to compete for the awards went through a two-step rigorous assessment process, which was completely independent of the ITC.
Receiving the award on behalf of NEPC, Mr Olusegun Awolowo the Executive Director/CEO of NEPC said he was humbled by the accomplishment. It is the first time NEPC will receive a World Trade Promotion Organisations award.
Mr Awolowo who received the Award in the company of the Nigerian Ambassador to France, Her Excellency Dr Modupe Irele and the Chief Executive of Business France, Mr Christophe Lecourtier, thanked ITC for all the support to NEPC and all other TPOs and also commended the Netherlands CBI for its partnership on the 'Zero to Export' initiative. Finally, he thanked the NEPC team for their contribution.
The nominated countries in the 'Best initiative to ensure that trade is inclusive and sustainable category' were Mauritius, Mongolia, Nigeria and Peru.
The NEPC winning initiative
According to NEPC, it entered the competition with its Zero to Export initiative. The 'Zero to Export' initiative trains exporters on the export process, provides advice on products and markets, and enhances their marketing and management skills. The initiative has trained 560 individuals and companies
The Impact
The initiative NEPC said, has achieved remarkable results which include €22 million in potential sales to the European market where Nigerian companies had not previously been successful. New products exported by SMEs with value of more than $30M, 10 new partnership alliances by SMEs while partnerships with three financial institutions on the project raised $1.3 million of working capital for the exporters. New exports valued at $30 million per year which included ginger, cashew kernels, cocoa products, hibiscus, sesame seeds, columbite for use in alloys, monalite for use in engineering and zircon were also developed.
Other WTPO 2018 Award winning countries are Ghana, for the Best use of Information Technology and Qatar Development Bank for the Best use of a Partnership. While Egypt, Mongolia, Switzerland and South Korea received Awards of Recognition.
Ms González congratulated the winners for their outstanding initiatives and also commended all participants for their dynamic entries. She disclosed the 11 organisations nominated for this year's awards as Austria, Egypt, Ghana, Mauritius, Mongolia, Nigeria, State of Palestine, Peru, Qatar, Republic of Korea and Switzerland.