PDP contests Ekiti State presidential election result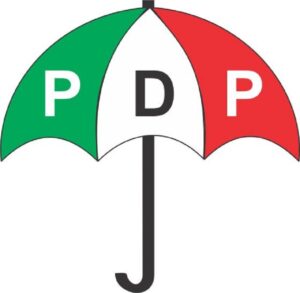 By Emmanuel Oloniruha
The National Collation Agent of the Peoples Democratic Party (PDP), Sen. Dino Melayem, has contested the presidential result presented by State Ekiti State Collation Officer, Prof. Akeem Lasisi.
Melaye, on Monday, at the beginning of proceeding at the National Collation Centre in Abuja alleged some discrepancies in the figures of the state results earlier presented on Sunday.
Melaye, who created a scene during the results presentation, said that he worked on the results as presented and discovered that there were 987,647 registered voters in Ekiti and 301,558 accredited.
"The results were presented on Sunday, APC had 201,494. If you subtract that from 301,558, what you have left is 100,064.
"Out of this 100,064, PDP scored 89,554. If you subtract that from the balance of 100,064, what is left is 10,510 and now it was also recorded that the Labour Party had 12,397 when the total left is 10,510, meaning an over figure of 887," he said.
Malaye said that aside from this 887 surplus, PDP had not calculated the votes of other political parties.
"You will recall that yesterday he told us that ADC scored 1,027.
"You will see from that presentation yesterday that the figure did not add up. There was over voting and the number of votes out numbered accredited voters and we know exactly what the law says concerning that.
"I move that, that should be considered because Ekiti cannot stand," Malaye said .
He demanded that INEC should use one of the display screens at the collation centre to display results uploaded from polling units to confirm the authenticity of results from state Collation Officers inline with INEC earlier promises.
He said that up till now some of the PU results were yet to be uploaded because there were challenges with INEC Results Viewing Portal.
"I want to challenge the SCOPE to tell us if the results he is presenting is from INEC Sever," he said
Also speaking, Umar Ibrahim, National Secretary and Presidential agent of Labour Party (LP) also alleged over voting in Ekiti State
"We are also making our calculation and observation based on the Ekiti State result and we have also come with a similar figure as presented by the PDP.
"As such there is obvious over voting. We also call for that result to be looked at and finally rejected," Farouk Said.
The Presidential agent for Action Alliance, Mr Kenneth Udeze, said that after going through the presentation, the AC also arrived at the same position with PDP.
"We will like the commission to look at it and the Ekiti State result should be cancelled for over voting based on our calculation," Udeze said .
Meanwhile, the All Progressives Congress (APC) National Agent, Babatunde Ogala, advised INEC to proceed with the business of the day and whoever wants to contest it should approach the court.
"I think the law is clear that when a result has been declared, we should result to petition, if need be.
"Ekiti was declared yesterday, we were asked for observation, and if that had been done, any party that feel troubled should prepare its petition," Ogala said.
He also said that going over the polling units one after the other would result to unnecessary delay in the collection of election results.
Also speaking, Emeka Ihedioha of PDP also expressed dissatisfaction with the Ekiti State Election results.
Ihedioha said he was one of the Nigerians that had absolute confidence in this electoral process but now seemed the process had been compromised.
"Mr Chairman, when there were efforts to undermine the authority of INEC, we stood firmly that INEC must be truly independent.
"We are talking about the transparency of this process and we are confident in this process. I have cause to speak with your commissioners this morning about the abuse of the processes.
"It is clear to us that in the course of collation, collation officers have been forced by people who think that have power to undo the results," he alleged.
Responding to question, INEC Chairman, Prof. Mahmood Yakubu, said the commission had taken note of the various observations.
He said the results collation had passed through four levels of collation –PU, ward, local government, and state levels.
He said no other results could supersede the official results by INEC.
"I still insist that the figure presented by the state collection officer for the presidential election for Ekiti State of the total number of accredited voters is 315,058.
"Is what is on the spreadsheet that we screened yesterday.
"This is also what is on the actual result manual recorded by the SCOPE and signed by the PDP agent and agents of other political parties back in Ekiti state.
"But having said that, I've taken note of your observations, let us make progress on that one.
"But what we have here is exactly what I've said. And any other figure that is at variance with this one cannot supersede the official result presented. Let's make progress," Yakubu said.
Yakubu responding to question on when scanned results on IReV could be used, said it was only when there was discrepancy in figures presented by SCOPE from those earlier collated at the four levels earlier mentioned.(NAN)