With over 2000 km of roads constructed in 8 years, we've grown economies of families – Okowa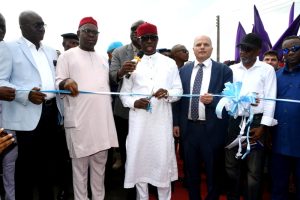 Governor Ifeanyi Okowa of Delta on Wednesday said his administration had contributed to the growth of economies of families with the construction of over 2,000 kilometres of roads and drainages in the last eight years.
Okowa made the disclosure while inaugurating projects executed by his administration in Ukwuani Local Government Area of the state.
The projects inaugurated are Bridge across River Ethiope at Umusume quarters and access road to Okuzu-Obiaruku; Obi-Ogo/Eziokpor/Umuoshi Eziokpor Road, and Model Technical College, Obiaruku.
Okowa stated that several communities had been interconnected with roads and bridges thereby opening up their economies for sustainable development.
He said that when the people had access to their farm lands and markets they would be able to engage in trade and economic activities that would impact positively on their lives.
"Truly, we have tried to reach out to our people across the state, connecting various communities because we believed in the power of connection.
"By the time you truly connect the people, you are opening them up to greater access to resource and we believe that across the state, we have grown the economies of families even in very difficult times that we have found ourselves.
"So, be assured that we will continue to do the best that we can. I will, as l exit office, offer a little advice to those who are incoming and l believe that they are going to do even more than we did in the course of our eight years tenure.
"Going across the state, l can see that we have done a whole lot where over 2,000 kilometres of roads were constructed in eight years and l thank God for that.
"The riverine communities were not excluded at all. They were greatly impacted. Even recently, l visited the Trans-Warri Road where we have along the course of that road, three major bridges and 12 smaller bridges," Okowa stated.
While inaugurating the Model Technical College, the Governor remarked that teachers and other civil servants in the state were better paid than their counterparts in the country.
He tasked the incoming administration to complete the six other technical colleges still under construction and extend it further to other local government areas.
The governor, who also inspected ongoing construction of Obiaruku-Umuebu Road Phase 2, thanked the community for their commitment to peaceful relations with Amai community.
He said that the state government would encourage the contractor to finish the project on schedule, and lauded the community for its support and cooperation with the contractor.
He thanked the people of Ukwuani for supporting his administration, and urged them to extend same to the incoming administration of Rt. Hon. Sheriff Oborevwori.
Earlier in his welcome remarks, Chairman Ukwuani Local Government Area, Mr. Possible Ajede, had commended the governor for his massive infrastructural projects in the local government area.
He said that the inauguration of the projects signposted economic development milestones of Ukwuani people, adding that the Umusume bridge would open new job opportunities and expansion of Obiaruku community across the River Ethiope.
The Ebu of Umuebu Kingdom, Donald Ekeruche and his Chiefs-in-Council who came out to welcome the Governor and his entourage, commended him for the road project and for ensuring that peace prevailed between Umuebu and Amai communities.
In a related development, Governor Okowa also inaugurated the Delta State Computerized Vehicle Inspection Service Centre in Asaba where he commended the Ministry of Transport for bringing the project to fruition.
Commissioner for Transport, Chief Mike Okah said the project was developed by Temple SYC inspection Limited, under a Public Private Partnership (PPP) basis through Finance, Build, Operate, Manage and Transfer (BOMT) model, to ensure appropriate Testing/Inspection of Vehicles before the issuance of Roadworthiness Certificates to vehicles.
He said the Service Centre will provide safety inspection test which includes visual, underneath, brake performance, steering and alignment inspection, as well as Machine Base, Head Light, Suspension and Emission Test.
He lauded Governor Okowa, for his vision to embark on the landmark project which will boost Internally Generated Revenue, create employment opportunities for Deltans and improve safety on the road.