#EndSARS: Travellers from Lagos to East stranded for two days
Commuters travelling from Lagos to the East have been stranded for two days on the highway due to the nationwide #EndSARS protests. However, some of the commuters said it was a sacrifice worth making for the cause.
Ekene Mbamara, a passenger heading to Owerri, Imo State said they have been on the road for two days as they approached Benin-City but added that it was not peculiar to his vehicle. "We have been on this road since Sunday. My target was to get into Imo State as early as 4pm on Sunday but here we are in Benin on Monday afternoon with so sign of when we will get out of here," he told Political Economist.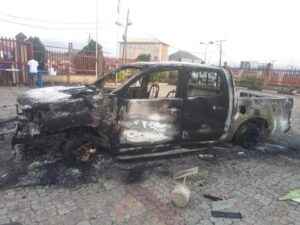 Investigations showed that these commuters may be in for longer than they think as Benin-City, the artery connecting the South East and the South-South to South West has been on lockdown. Hoodlums have hijacked the once peaceful #EndSARS protest to foist a reign of terror in the city.
On Monday morning, they broke into the Correctional Centre (Prison) and set inmates free. They also attacked the Benin office of the Niger Delta Development Commission, NDDC.
The state government has imposed a 24-hour curfew in the state.