England fans racially abuse Saka, attack Italian fans after Euro loss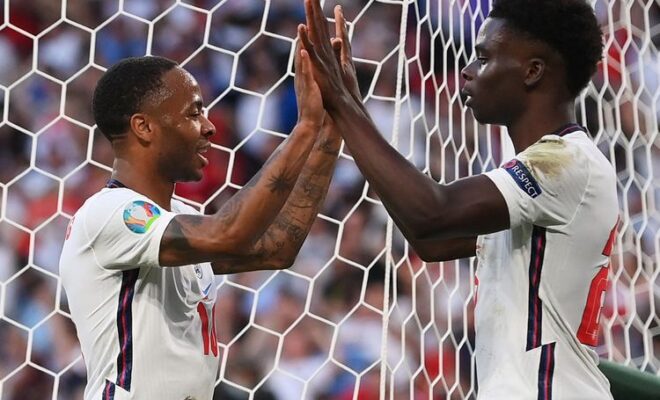 July 12, 2021
Several key warriors decided to jump on Saka's IG account to post monkey emojis in the comments section. Racism has been a huge problem not only in English football but throughout Europe as well and it has reared its ugly head in the most inopportune time for Bukayo Saka
After losing to Italy Sunday night, some England fans took their angst against 19-year-old Bukayo Saka after the Arsenal winger missed what turned out to be a title-deciding penalty in the shootout.
A number of angry English fans took to social media to disgustingly attack Saka with some unacceptable racist comments. They called Saka unprintable names even as some went wild outside Wembley, attacking and injuring Italian fans and anybody that looked Italian within sight.
Several key warriors decided to jump on Saka's IG account to post monkey emojis in the comments section. Racism has been a huge problem not only in English football but throughout Europe as well and it has reared its ugly head in the most inopportune time for Bukayo Saka, reports Clutchpoints.com
The tightly-contested match needed extra time to determine a winner after the contest was tied at 1-1 after 90 minutes. Neither team scored in the extra periods so the Final had to be decided via a dramatic penalty shootout. England missed their third and fourth penalties courtesy of Marcus Rashford and Jadon Sancho, respectively, which put Italy at a huge advantage.
Saka stepped up to take the Three Lion's fifth and final pen, which unfortunately for him and the rest of the nation, ended up being saved by Italian goalkeeper Gianluigi Donnarumma. To be frank, it was actually a decent penalty from Bukayo Saka, but in the end, it was Donnarumma who emerged as the hero of the Final.
England fans shortly after the loss went into a frenzy of riots.
Reports said officers wearing riot gear and clutching shields were in position at a fan zone at Trafalgar Square, Piccadilly Circus and Leicester Square as supporters gathered and some set off flares following the nation's defeat.
Earlier, hundreds of ticketless fans tried to storm the Wembley gates in a bid to gain entry to England's Euro 2020 final against Italy.
Footage posted on social media showed supporters battling to get past lines of stewards and police as the atmosphere turned ugly in the hours before kick-off.
There were reports a child had been trampled and a man kicked while lying on the floor.
"Can only describe scenes outside Wembley as carnage and not in a good way. First line of security clearly breached," UK Daily Mail reporter Mike Keegan tweeted.
"This is utterly appalling. Can't – and shouldn't – be forgotten, whatever the result," Sky News journalist Martha Kelner said while sharing a video of the assault on social media.
While some fans shown in the videos appeared to get past the fences and towards the venue, Wembley officials insisted there had been no breach of stadium security.
A spokesperson for Wembley Stadium said: "We are dealing with an incident that occurred at the outer security perimeter area of the stadium, with support from police.
"Safety measures were quickly activated in the relevant areas and there were no security breaches of people without tickets getting inside the stadium."
The Metropolitan Police tweeted: "We supported the security teams at Wembley Stadium a short time ago with this incident.
"Wembley security officials have confirmed there was no security breaches of people without tickets getting inside the stadium."