How N80bn money laundering deals landed AGF Ahmed Idris in EFCC net
May 17, 2022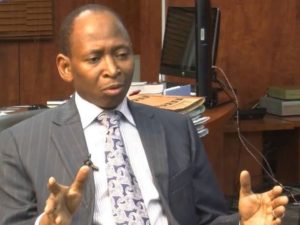 Barely one year to the end of his service, operatives of the Economic and Financial Crimes Commission, EFCC,  on Monday, May 16, 2022 arrested serving Accountant General of the Federation, Mr. Ahmed Idris in connection with  diversion of funds and money laundering  activities to the tune of N80billion.
Idris from Kano was said to have taken advantage of the loose accounting systems in the federal civil service to cream off billions of naira from various parastatals which he siphoned through proxy offices, family members and his cronies.
The money was invested in real estate in some parts of the north and Abuja. But an EFCC source said Idris did not act alone, adding that his earlier invitations which he snubbed and his subsequent arrest will help the anti-crime agency unravel suspected collusion with heads of some parastatals.
There have been several allegations of fraud linked to his office but he has weathered all storms until his latest ordeal which EFCC officials said was part of the investigations on several deals uncovered during his barely seven years leadership as the AGF.
The EFCC alleged that the AGF raked off the funds through bogus consultancies and other illegal activities using proxies, family members and close associates.
The funds were laundered through real estate investments in Kano and Abuja.
Mr. Idris was arrested after failing to honour invitations by the EFCC to respond to issues connected to the fraudulent acts.
The office of the Accountant General of the Federation is saddled with the responsibility of formulating the accounting policies of the Federal Government; oversighting loans servicing and public debt management. It also manages all the Federal Pay Offices (FPOs) in the 36 states of the Federation.
Idris was appointed as Accountant General on June 25, 2015, to succeed Jonah Ogunniyi Otunla who was sacked by Muhammadu Buhari on allegation of misappropriating N2.5 billion of security agencies' funds. He was re-appointed Accountant General after Buhari won a second term in 2019.
Prior to his appointment as AGF, he was a director in the Federal Ministry of Mines and Steel. He is a member of the Association of National Accountant of Nigeria (ANAN).