PETER OBI CONDEMNS POST-RALLY ATTACKS IN KATSINA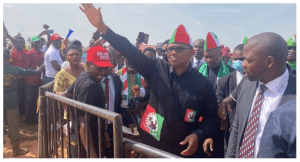 The Obi/Datti Presidential Campaign Council hereby condems the attack on our Presidential Pandidate Mr Peter Obi in Katsina, Katsina State yesterday.
Our candidate had met with women in a townhall and then held a hugely successful Rally at the Muhammad Dikko Stadium. However on his way to the airport, hoodlums attacked the car our candidate was riding in with heavy stones from his drivers side causing substatial damage to the vehicle.
To the glory of God, Mr Obi and other occupants of the car were unhurt.
Subsequently another set of thugs also threw stones outside the stadium which damaged several vehicles including that of our official stage crew.
The two incidents taken together make us suspect that the attacks may have been premeditated at the behest of desperate polititicians who had been deluding themselves with the false claim that they had the northwest locked up but are now shocked by the show of force of the Obidient movement in the region.
While thanking the good people of Katsina who came out enmasse to support our campaign yesterday, we call on security agencies to investigate this matter to forestall future occurrences.