Peter Obi in US, holds talks with US Congressman; Wilson Centre President
August 6, 2021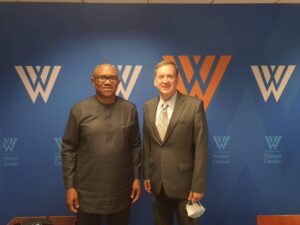 Former Anambra governor, Peter Obi, on Wednesday met with President of Wilson Centre, Mark Green and US Congressman, Chris Smith, in the United States as part of his global networking to share ideas on wide-ranging issues for the betterment of humanity.
Obi, a former Vice Presidential candidate of the Peoples Democratic, PDP, has just turned 60 and he says he's marking his Diamond anniversary over a period of one year. As part of his birthday day activities, Obi has been visiting hospitals and schools and making donation to improve human development and capacity.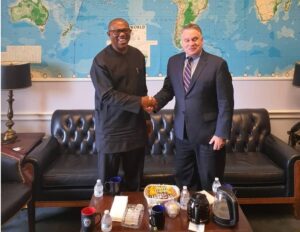 In the United States, Obi held talks with the President of Wilson Centre, Mark Green. The Wilson Centre is America's key non-partisan policy forum for tackling global issues through independent research and dialogue intended to engender global understanding of issues and proffering solutions and alternative views.
Mr. Obi also held a meeting with other key figures in the US public space including Congressman Chris Smith, a Republican, famed for speaking out against human rights violations not just in the United States but across the globe.
At a recent bipartisan human rights hearing, Rep. Chris Smith (R-New Jersey) condemned the egregious genocide and other atrocities perpetrated by the Chinese Communist Party (CCP), calling upon the International Olympic Committee (IOC) to find a new host city for the 2022 Winter Olympics or face a boycott.