Nigeria corruption index worsens, drops to 150 out of 180 countries/territories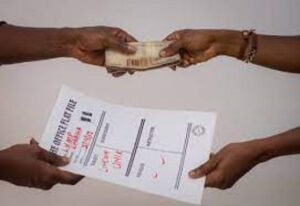 Nigeria's corruption rating has fallen four places from 154 to 150 out of 180 countries and territories in the latest ranking of the 2022 Corruption Perceptions Index released by Transparency International (TI) on Tuesday.
Although the country maintained its previous score of 24 out of 100 points in 2022, it fell to 150.
According to the Civil Society Legislative Advocacy Centre, CSLAC, which aggregated data from eight different sectors, the latest ranking on the level of corruption in the public sector, indicates that the CPI index for the country has remained consistently low in the last 10 years, while the lack of transparency in Nigeria's security sector has weakened the country.
The ranking which comes less than a month before Nigeria's general election is not intended to make Nigeria look bad or unresponsive to the corruption challenge, says the Executive Director, Civil Society Legislative Advocacy Centre (CISLAC), Auwal Rafsanjani.
This year's CPI results underline how intertwined paths of democracy, security and development in Sub-Saharan Africa are eroded by corruption – particularly during a time of global crises. The region struggles to recover from the COVID-19 pandemic and an increased cost of living. Extensive funds are needed to address the consequences of economic, ecological and healthcare challenges, and they must not be lost to corruption, according to  TI.
Seychelles continues to lead the region with a CPI score of 70, followed by Botswana and Cabo Verde, each with 60. Burundi (17), Equatorial Guinea (17), South Sudan (13) and Somalia (12) perform the lowest.
Conflict and security challenges have further weakened institutions and undermined states' capacity to decisively respond to corruption. This has also meant little to no action in preventing capital flight – estimated to be in tens of billions of dollars each year – from the region. Independent checks on power continued to take a hit too. Opposition figures or activists have been intimidated, smeared or arrested – at times under the pretence of anti-corruption crackdowns and enabled by heavily politicised judicial systems.
The pandemic has affected the livelihoods of people, deepened inequalities and increased graft risks across the region. It is no surprise that corruption was a core issue in many of the elections in 2022. Integrity of the vote itself also remained a concern. In Kenya (32), the election highlighted the urgent need for public scrutiny of political financing. The same issue will be in the spotlight during 2023 elections in Nigeria (24) and Ghana (43) in 2024.