PRESIDENT BUHARI OFF TO LONDON FRIDAY FOR 3-WEEK MEDICAL HOLIDAY
June 24, 2021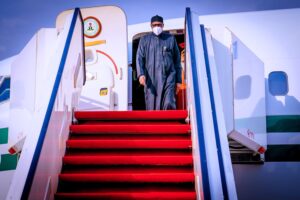 President Muhammadu Buhari will proceed to London, the United Kingdom on Friday, June 25, 2021, for a scheduled medical follow-up. This is coming barely nine weeks after the President returned from his first medical check-up in 2021 on April 15.
This time, the President is expected to stay away for about three weeks and is due back in the country during the second week of July, 2021, says a statement by his spokesman, Mr. Femi Adesina.
Since his return on April 15, the President has looked hale and hearty and in recent weeks, he had undertaken trips to Borno and Lagos, something he had not done in a very long period.
It's not clear if the President would transmit power to Vice President Yemi Osinbajo.