How troops killed 1,015 insurgents in 7 weeks of intense fighting – Buratai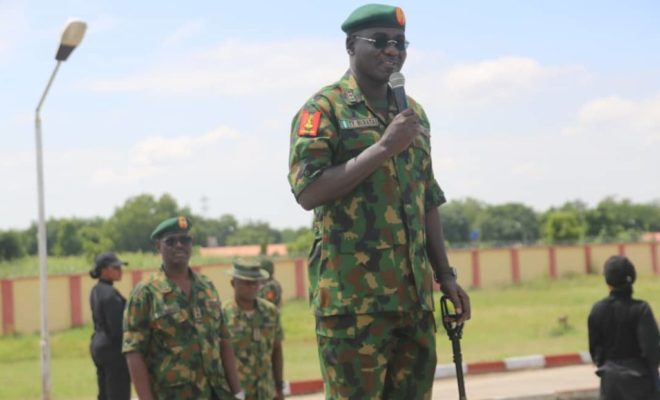 The Nigerian Army said it had eliminated over 1,015 Boko Haram terrorists in different encounters with the insurgents in the Northeast between April 4, 2020 till date; a period of seven weeks.
The Chief of Army Staff (COAS), Lt.-Gen. Tukur Buratai, who disclosed this on Sunday when he hosted the troops of Operation Lafiya Dole to Eid-El-Fitr luncheon at Military Control and Command Centre in Maiduguri.
Buratai said that the insurgents were neutralised since his arrival in the Theatre to lead the troops under Operation KANTANA JIMLA within the period under review.
He said that some of the notable encounters since the commencement of the Operation include: that of Buni Gari, Gaidam, Minok, Dapchi, Baga, Dikwa, Awulari, Ajiri, Pulka, Ngoshe, Alafa and different parts of Sambisa Forest as well as Gajiganna.
He explained that the Artillery's airstrike and blockage operations conducted by troops at the Tumbuktu Triangles around Sambisa has been greatly successful.
He said that the troops succeeded in dislodging major camps of the terrorists at Mungusum, Gajirin, Talala, Buk, and Malumti among others under the operation.
"Hundreds of terrorist fighters have been neutralised in this different camps as confirmed by the force and captured terrorists while trying to escape the operations.
"Many more hundreds have been injured and are hiding in the forest with serious wounds.
"This explains why the terrorist have resulted to desperate attacks on towns and villages such as Babangida, Dapchi searching for medical supplies and other logistics to treat their injured colleagues, who are dying like foul in the forest.
"Overall, since my arrival here in the Northeast on the 4th of April this year, you gallant troops of Operation Lafiya Dole have neutralised over 1,015 Boko Haram terrorists.
"Also, you have impressively maintain the blockage of Boko Haram logistics supply chains and freedom of movement within the Tumbuktu Triangles.
"In a light manner, the Nigerian army intelligence core has impressively been organised and its operations has greatly improved.
The Chief of Military Intelligence Team, through covert Operations have arrested 84 Boko Haram/ISWAP logistics suppliers, informants and curriers.
According to him, this has greatly disrupted their logistics supply chain and communication network, thereby tightening the blockage around them.
"It is also gratifying to note that officers and men of the Nigerian army, fighting in close support with the combatant personnel of the Nigeria Navy Special Force Services and the gallant pilots of the Nigerian Airforce, have consistently disrupted the terrorists moves and done well in neutralising them," he said
The COAS said it had also sustained some casualties while others sustained injuries while executing the operations.
"We pray for the departed souls even as you continue to look after injured ones to the best available standard," he said.