Emefiele not running for President, not resigning as CBN Governor
May 14, 2022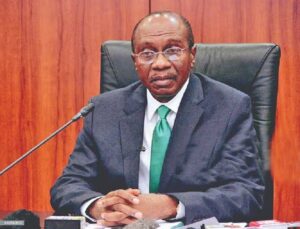 Godwin Emefiele, Governor of Central Bank of Nigeria (CBN) is not running for the office of President of Nigeria under any party and his job as CBN Governor is not threatened either, Political Economist can authoritatively report.
In the wake of the din from critics calling on Emefiele to resign on account of open partisanship coupled with President Muhammadu Buhari's directive to appointees seeking elective position in the forthcoming primary to resign, Emefiele had visited the President in the Villa.
Aso Rock insiders told our reporter that Emefiele specifically told the President that he was not running as widely reported whereupon the President assured him that his position as CBN Governor was not under threat in any way.
President had in 2019 renewed the tenure of Emefiele at the expiration of the first term of five years. Emefiele was appointed by the PDP government of Goodluck Jonathan in 2014. Buhari was said to be pleased with how Emefiele had navigated the nation's economy through the global storms of recession and the Covid-19 pandemic.
Emefiele had stepped out of his meeting Thursday with President Buhari in Aso Rock brimming with confidence and taunting his critics, saying they could be "having heart attack while he is having fun."
Recall that some of the ministers seeking elective positions in the 2023 elections have tendered their resignations following the directive by President Muhammadu Buhari.
Minister of Information and Culture, Lai Mohammed, disclosed this after a valedictory held for the outgoing members of the Federal Executive Council (FEC) at the State House in Abuja.
He said a total of ten ministers are quitting cabinet. Nine were physically present at the valedictory session while the former Minister of State for Education, Emeka Nwajiuba,  was absent. Nwajiuba was the first to announce his resignation on Wednesday at the Federal Executive Council meeting.
During the event, President Muhammadu Buhari thanked them for their services to the nation and charged the rest members of cabinet to remain dedicated to their duty.
It was learnt that some of the ministers who had openly voiced their ambition to gun for Presidency have their eyes on the Senate as they have already purchased their forms for the Red Chamber.
Those affected are: Niger Delta Minister Sen Godswill Akpabio,  Minister of Transportation, Rt Hon Rotimi Amaechi, Minister of State Mines and Steel, Hon Uche Ogah,  Minister of State Petroleum, Timipre Sylva, Minister of Science and Technology, Dr Ogbonnaya Onu, Minister of Women Affairs, Dame Pauline Tallen, and Minister of State Niger Delta, Tayo Alasoadua.